The Marriott Library is one of the best resources on campus. With five levels and more than 4 million books plus everything from lockers to a writing center — academic success is right around the corner.
Check out these five resources you may not know about:
1) Knowledge Commons
Knowledge Commons is an amazing student resource. Located on Level 2, you'll find electronic devices and equipment to check out, printing and scanning services, and technical assistance for things such as setting up UMail on your phone.
2) Study Spaces
Study spaces are located throughout the library and you can even reserve them from your phone! There are a plethora of options including quiet study rooms and events paces. Visit lib.utah.edu and select find a study place.
3) University Writing Center
Every college student can use some help with writing. Experts are available through the writing center to help you build this essential skill. They offer live online, in-person, and asynchronous written support, and it's free to U of U students.
4) Creativity and Innovation Services
This is your new go-to whether you're exploring your creativity or are working on a project. Before you spend thousands on equipment, make sure you check these amazing services. They offer 3D printing services, audio and video studios where you can record anything from interviews to sound art, virtual reality equipment, and more!
5) Lockers
Remember your high school locker? Sometimes it's nice to have a place close by to store your stuff. Located on Level 1 at the West Entrance Lobby, you can rent lockers for $25 per semester.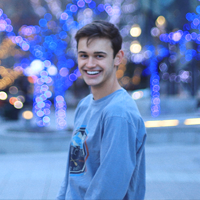 Kade Schweitzer is a Pre-Business student at the David Eccles School of Business. He currently serves as an intern for the Marketing + Communications team.