Join us for an in-person info session!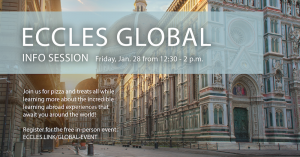 Join us Friday, Jan. 28 at 12:30 p.m. for pizza, treats, and great information about the incredible learning abroad experiences that await you during Summer Semester 2022 that will take you to places such as France, Italy, England, Ghana, the Netherlands, and Spain!
The free event will be in the Eccles Global Club Lounge at the north end of the 3rd Floor of the SFEBB.
RSVP Now
Eccles Global
Eccles Global Learning Abroad is the learning abroad program for the David Eccles School of Business at the University of Utah. Eccles Global is
committed to creating a safe, affordable learning abroad experiences to engage students in worldwide business education that instills the skill set
students need to compete internationally. Our experiences are unique in that all of our classes are taught by the same top-ranked faculty at the Eccles School. Students, staff, and faculty spend one week to one semester studying business with an international focus. Students often participate in weekend excursions and make lifelong friends.
This is Global Learning + Doing.
All Eccles Global Learning Abroad experiences are contingent upon the global effects of COVID-19. All experiences are subject to change.
Join us for an upcoming info session
Join Eccles Global leaders to learn more about the incredible opportunities that await you this upcoming school year! All info sessions are at 1 p.m. MT unless otherwise noted. Click on the dates below to register.
Watch now
Check out the webinars below and learn about Eccles Global opportunities for Spring and Summer 2022.
Go to travel.state.gov to renew or apply for your passport. Passport processing times are currently delayed (10 to 12 weeks). Click here to learn more and make sure to apply early.
What's Included
When you choose to study abroad on an Eccles Global Study Abroad program, you get the full deal: personal advising before you go, access to stellar academic opportunities, options to travel on field trips, guaranteed housing, and health and safety support.
Whether you're going to Paris, Ghana, South Korea or Buenos Aires, we're committed to providing superior academic and student support services every step of the way.