Equity, Diversity, and Inclusion
The David Eccles School of Business is committed to fostering an inclusive culture by embracing diversity and equity in all its forms. It's important that our students, staff, faculty, and guests feel included and represented at the Eccles School. We insist on a climate of diversity, equity, and inclusion, not just because it creates a safe place for everyone, but because we're all better and more empathetic people when we learn what it's like to live in someone else's shoes. Because of this, the David Eccles School of Business and the University of Utah offer clubs, events, initiatives, and many other resources to foster an inclusive environment.
The Eccles Experience is for everyone.
Working toward a more inclusive future.
We know that diversity, equity, and inclusion require long-term commitment, and we are working toward creating a more inclusive and equitable culture at the Eccles School. An Equity, Diversity, and Inclusion Committee have created a framework with two overarching commitments that will guide our work, Ensuring Equitable Systems and Fostering an Inclusive Environment, in order to support a vibrant culture that welcomes, celebrates, and respects all experiences and identities.
The plan is not meant to be exhaustive, but rather provide a framework for the Eccles School community departments, programs, and units to develop specific and measurable plans for developing a more inclusive Eccles future.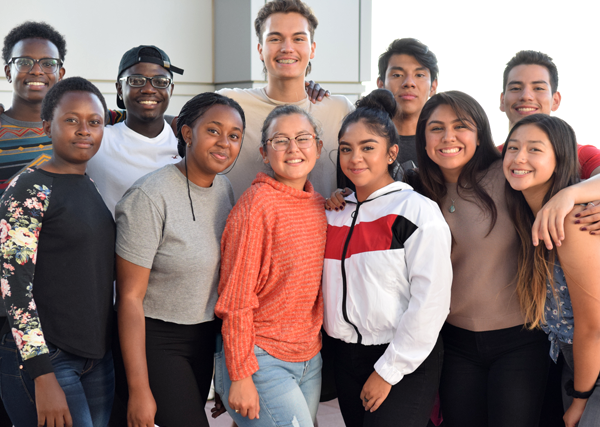 Office for Student Inclusion
The Office for Student Inclusion (OSI) strives to cultivate an inclusive environment through the development of student and community-focused initiatives. They provide holistic support for diverse student populations through scholar programs, mentoring and networking, community-building events, and more. OSI houses the Opportunity Scholars, First Ascent Scholars, and Eccles Beginnings programs.
Stop by SFEBB 3120 to connect with others or enjoy a quiet moment in the reflection room.
Inclusion Learning
The Eccles School holds several events focusing on equity, diversity, and inclusion. Many of these are hosted by the Eccles Student Affinity Organizations. During Spring Semester, we host our annual Eccles Inclusion Week. This week celebrates our diverse community and aims to strengthen the inclusive culture at the Eccles School. It features a variety of events, including speaker panels, faculty lunch and learns, service projects, a multicultural gala, and more!
Inclusion & Business Strategy Case Competition
Student Affinity Organizations
The Eccles School hosts several Student Affinity Organizations that welcome, celebrate, and respect student identities and experiences. These organizations provide various resources and efforts, including event programming, training, and workshops, to foster a safe space.