The spirit of fall was in the air of the Garff Lobby.
Hosting their weekly "Wednesdays at GARFF" event, student leaders Victoria Nguyen, Business Career Services, and Chloe Carr, Goff Strategic Leadership Center, brought their creativity to their Crimson Creations. Students attending the event had the opportunity to make one of three different crafts – a beaded bracelet, a detailed coloring page, or a painted pumpkin masterpiece! It was a fun mid-week pick-me-up as they socialized with their fellow Eccles students, enjoyed music and dancing, and, of course, snacks!
Each week, "Wednesdays at GARFF" features a different theme and a chance to have fun. Next up on Dec. 1 is Winter Wonderland! Stop by anytime from noon – 2 p.m. and grab a goodie bag and some candy, listen to music, and hang out with friends. Plus, attendees earn Passport Points for the Business Scholars Program or the ability to sign up for the Goff Take Lead Club.
"Wednesdays at GARFF" continues every Wednesday through the Fall 2021 Semester, so come down to the Garff Lobby and see what is in store!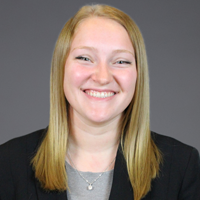 Julie Kummer is a University of Utah student working toward her bachelor's degree in Elementary Education. She is a Lead Business Career Services Ambassador who works as a Peer Coach, Social Media Associate, and Front Desk Worker.