You've worked hard to earn your degree and to celebrate at graduation. Check out these five tips to make sure your regalia is on just right so you can look your sharpest on your big day. Congratulations, graduates!
1. Adjust your gown so it rests comfortably on your shoulders and hits below your knees but doesn't pose a tripping hazard.
2. For graduate students, place the hood over your head so the tapered side is at the front of your neck. Fasten your hood to a button on your shirt or use a safety pin to attach it to a blouse or dress. Give yourself some breathing room and don't have it tight against your neck.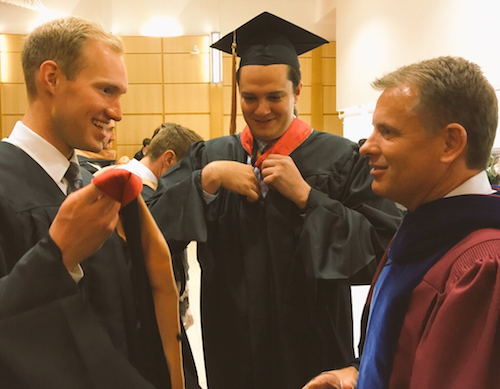 3. Show off your colors! Turn out the Eccles School colors for all to see.

4. Adjust your cap so the point is in the middle of your forehead.

5. Fasten your tassle to the button on top of your mortarboard. Make sure the tassle is to the right. You can switch it over to the left side after your degree has been conferred to you.