One of the most significant transitions you will make in your life is the transition from senior year of high school into freshman year of college. While this may be true every year, it is especially true now, as we are in the midst of a global pandemic. Everyone's expectations for their second semester of senior year were crushed for the Class of 2020, and now, their first year of college will not be the experience they expected. However, global pandemic or not, there are some things I learned during my freshman year that I feel every incoming newcomer needs to hear.
Do not overload your class schedule
When I first looked at all the classes I would need to take in the coming years, to say I felt extremely overwhelmed would be a complete understatement. My first instinct was to choose probably the hardest course load I could as a freshman. Some classes will be harder than others. Make sure to mix those classes with some that interest you. There are so many fun general education classes on basically every topic!
Know what time you will actually get up in the morning
Throughout my entire schooling experience, I have known that I am not an early riser. Thankfully, I understood that when it came time to register for my classes in Fall Semester. However, I had many friends who thought that they would magically get up at 7:30 a.m. just in time for their 8 a.m. class across campus because they were an "adult" now. Needless to say, they slept through many classes in their first semester.
Find a solid community of support
High school fosters this type of environment. Each team, activity, and shared experience creates a close bond that you hold with your fellow students for four years. Finding that type of bond gets a lot harder when your school has upward of 20,000 students. However, many things across campus can help foster this bond, including student clubs, living in the dorms, and greek life. The Office of Student Engagement & Assessment also can help you find opportunities for involvement.
Save time for yourself
The first few weeks of freshman year are nonstop. With moving in, meeting new people, continual programming from the U and the Business School, and classes on top of it all, by the end of the fourth week I felt myself thinking "OK, this has all been fun, time to go home right?" Not because I wanted to go home, but because I had been moving and doing so much, I'm sure my body just thought I was on some sort of vacation that should have ended a while ago. It is essential to schedule some "me-time" every once in a while. Trust me, just because you politely turn down someone's offer to get ice cream from the PHC does not mean they will never talk to you again.
Everyone else is freaking out
It doesn't matter if you are in-state or out-of-state, if you know your major or are undecided (you'll probably change it anyway), or if you are living in Sage Point or Lassonde Studios, no one knows what they're doing at first. And that is totally fine. Everyone is going through the same thing in their own different way. The biggest thing I learned was not to judge anyone. The best part about college is getting to know people who have had a massively different life experience from you. I encourage you to find and listen to these people. It will change your outlook on the world forever.
Your premier Eccles Experience. Student Engagement & Assessment (SEA) provides premier experiences through robust developmental and leadership opportunities for undergraduate students. It's also home to our student government, BLinc. Visit for Eccles.link/SEA for information on student organizations and leadership opportunities, tutoring, and more.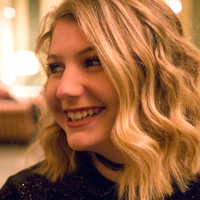 Anna Terry is a Marketing and Information Systems student at the David Eccles School of Business. She currently serves as an intern for the Marketing + Communications team.