Hadlee Selman, who graduated with her Bachelor's in Marketing in Spring 2020 and assumed a position on Overstock.com's Paid Social Marketing Team after graduation, has recently been honored as one of the 10 Utah Business Sales & Marketers of the Year. The SAMY (Sales & Marketers of the Year) awards recognize professionals who have had a measurable impact on their company's bottom line and go above and beyond to share their company's visions.
She has been joined by five other U alumni, who have been recognized alongside Selman, including Julie DeForest, John Huntinghouse, Josh Webber, Megan Bowen, and Sierra Forsberg. Four are Eccles School alumni.
Less than two years ago, Selman was involved in the Eccles School community as a student leader, especially known for her involvement in Women in Business, as a Business Career Ambassador for Business Career Services (BCS), and as a Social Media Lead for the Corporate Outreach department. This achievement goes to show the impact of the Eccles School and the ways Eccles provides professional success, even after graduation.
Kudos to Career Coaches Polly Unruh, Colby Brown, and all others who have impacted the professional development and success of marketing majors. Once again, congratulations to this year's honorees, and may they continue their positive marketing journey!
For more information about our Marketing program, visit Eccles.link/marketing.
Your premier Eccles Experience. Business Career Services (BCS) offers comprehensive career coaching and resources to students at the David Eccles School of Business. Paired with a dedicated corporate outreach team, BCS also allows students to gain real-world experience through job and internship opportunities with top employers. For more information, visit Eccles.link/BCS.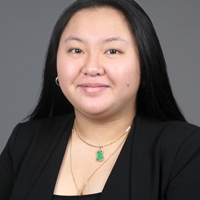 Victoria Nguyen is a Marketing & Business Administration student at the Eccles School of Business. She currently serves as an intern for the Marketing + Communications team, as well as a Student Coordinator for the Student Engagement & Assessment team and Business Career Ambassador on the Business Career Services Marketing & Communications team.