In their most recent episode, the Hey U Podcast team had the opportunity to sit down with two representatives from Northwestern Mutual: Todd Grabner, managing partner at the firm, and Jared Shumway, director of internship development. Grabner and Shumway gave some valuable practical advice, speaking about topics such as financial planning, development of skills, and overall insight for students looking to get a head start on planning their future. 
Since the company was founded in 1857, Northwestern Mutual has proven themselves a top firm, operating under a vision placing utmost importance on their policyholders.
From the company's perspective, "When people feel better about their money, good things happen – they become more confident and feel more secure. Taking away the everyday financial stress that most people experience (1 out of every 3, in fact) helps them breathe easier, sleep better, and feel happier. That's why Northwestern Mutual exists." 
Both Grabner and Shumway gave some personal advice about how students can both find and plan for success in the future. They spoke to work ethic.
"When you take a job, do it at the highest level you possibly can, so it's your choice if you want to go do something different or not."
This is such an important perspective to take, especially when students are trying to find a career path that is right for them. While seeking that career path, "there are a thousand good ideas, but it really is about trying to find and educate yourself on the best ideas."
What Grabner and Shumway are speaking to here is what Northwestern Mutual does best – creating a plan for success and executing that plan to the highest level.  
Personal success looks different for everyone, especially in a pandemic. However, Grabner and Shumway assure listeners that even during a time of unpredictability, students are still presented with the opportunity to become the best versions of themselves.
Grabner and Shumway advised that real-world experience can set students apart in job applications. If students can take advantage of the wide variety of opportunities presented to them in school, they quickly can accumulate real-world experience that will ultimately help them stand out to companies like Northwestern Mutual when it comes time to interview. 
Ranked 102 on the Fortune 500 list, Northwestern Mutual holds itself to a high standard when it comes to helping its customers plan for the future. Although the future is uncertain, companies like Northwestern Mutual will continue to bring security to the lives of the people they serve daily. 
Check out the full episode at Eccles.link/HeyU or on your favorite podcast platform. Don't forget to leave a review! 
Your premier Eccles Experience. Business Career Services (BCS) offers comprehensive career coaching and resources to students at the David Eccles School of Business. Paired with a dedicated corporate outreach team, BCS also allows students to gain real-world experience through job and internship opportunities with top employers. For more information, visit Eccles.link/BCS.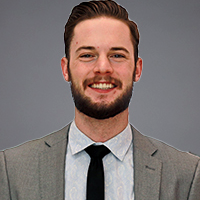 About the Author
Nolan Faley is a senior at the University of Utah and will graduate with a degree in Marketing. Since moving to Utah in 2017, he has served several different roles for the University, including an Eccles Ambassador for the Business Scholars Program, a Business Career Ambassador for the Business Career Services Team, and a Manager for the Women's Volleyball Team. He looks to pursue a career in the Sports Marketing industry when he graduates in May of 2021.