Hey U Podcast
Made by students, for students.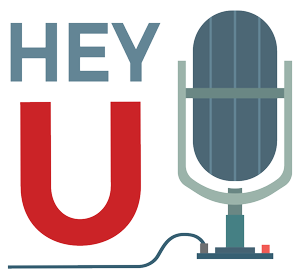 The Hey U podcast features interviews with employers and leaders to get the inside scoop on all things business — everything from landing a job to navigating your career path. Learn how to turn mistakes into successes, negotiate your first salary, and much more! New podcasts are released each month — so sit down, grab a cup of coffee, and tune in for quick, helpful tips from the experts (and us, too). This is Hey U!
2023-24
Love is in the air! It's Valentine's Day, so on this week's episode of Hey U, the team will be discussing the similarities between finding your dream partner and your dream job. We also share some red and green flags to look out for while searching for your next job or internship. If you are looking to find a company to work for that will be a good match for you, be sure to attend the Doers Hired: Skills Match event on Feb. 16 at Child Hall inside of the SFEBB.
Happy New Year! We are starting 2023 right with a new episode of Hey U. Today the team sits down to discuss their New Year's Resolutions, how those changes will help with their careers, and some 2023 predictions. Do you have any goals or predictions you want to share with us? Send them our way @ecclescareers on Instagram.
2021-22
2019-20
Hey U International Student Edition Podcast
The international edition of the Hey U podcast features guests from inside the Eccles school, international alums, immigration attorneys, and more! You will find useful insight for navigating the international student experience as you pursue a successful career. Look for new podcasts every other Tuesday while classes are in session.

2023-24
Gain insight from University of Utah Alumni Dan Wallwitz as he shares his Eccles Experience, looking for internships and jobs, networking, and more!
In our second episode, we cover the basics of networking! Denise DeCoite, Director of Corporate Outreach, discusses tactics you can use to approach networking and how to maximize your impact when interacting with people.
Welcome to the first episode of our Hey U- International Student Edition podcast! This is a spin-off series of our Hey U podcast that was created with our International student population in mind. This episode features one of our Business Career Services career coaches, Rebecca McDonald. She gives insight into how you can ramp up your resume to make sure it's optimized for the job application process.