As college students, our primary purpose on campus is to earn a degree that can catapult us onto a career path that is both fulfilling and successful. According to a new report by Gallup and the Strada Education Network, 80 percent of students have cited getting a well-paid and satisfying career as the main reason they enrolled in university. However, only 34 percent feel they are confident in their ability to participate in both the job market and workplace.(1)
The Business Career Services (BCS) office is the bridge that connects earning your business degree and getting a great job offer. BCS offers a long list of necessary services for an Eccles student. Through one-to-one coaching, students can discover their strengths, explore career opportunities, target their resumes, and learn how to negotiate salary offers. Once we're back to campus this fall, BCS also will offer Career Studios, where students can interview with employers remotely using professional lighting, camera, and sound. When it's time to dress to impress, Eccles students can rent professional clothes through the Career Closet free of charge. On their website, you can find anything from self-assessment tests, to resume templates, to helpful information such as tips for networking, job shadowing, and interviews.
In the past few months, the BCS team has been working nonstop to ensure the services they offer easily translate into an online setting. Not only are they continuing Career Coaching virtually, but they are piloting innovative approaches like virtual career fairs, online employer-hosted info sessions, and a new podcast created by students for students, Hey U.
For more info, make an appointment with your professional Career Coach.
(1) Eagan, M. K., Stolzenberg, E. B., Ramirez, J. J., Aragon, M. C., Suchard, M. R., & Rios-Aguilar, C. (2016). The American freshman: Fifty-Year trends, 1966–2015. Los Angeles: Higher Education Research Institute, UCLA.
Your premier Eccles Experience. Business Career Services (BCS) offers comprehensive career coaching and resources to students at the David Eccles School of Business. Paired with a dedicated corporate outreach team, BCS also allows students to gain real-world experience through job and internship opportunities with top employers. For more information, visit Eccles.link/BCS.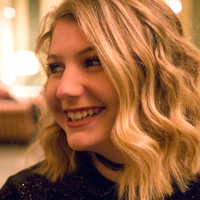 About the Author
Anna Terry is a Marketing and Information Systems student at the David Eccles School of Business. She currently serves as an intern for the Marketing + Communications team.