The Women in Entrepreneurship Alumnae Panel brought together creative minds from across the University of Utah to share their experiences as real-world entrepreneurs. Participants included Camryn Polansky of the Lassonde Founders student group; Juliana Duran, small-business owner and entrepreneur; Anne Bastien, Program Director at Lassonde Entrepreneur Institute; Justin Kahn, Instructor in the Master of Business Creation program at the David Eccles School of Business; and Marcella Kirschbaum, Entrepreneurship Career Coach at Business Career Services.
The panelists looked to inspire the next generation of students who seek to combine a passion for creation and a business-driven mindset. While the entrepreneurship/small business owner route may seem risky, the panelist assured plenty of opportunities for growth and success, amidst the learning curve.
A main talking point during the event was opportunities for students to expand their entrepreneurial reach through the Lassonde Entrepreneur Institute. The Institute is a nationally ranked hub for student entrepreneurship and innovation at the University of Utah. The institute provides opportunities for thousands of students. Programs include workshops, networking events, business-plan competitions, startup support, innovation programs, graduate seminars, scholarships, community outreach, and more.
Anne Bastien, director of programs at Lassonde, specifically in the student entrepreneurship space, serves to "not just help students learn about entrepreneurship, but try it … with money that isn't [theirs]." Camryn Polansky, a junior at the university who leads her own small business, is currently part of one of the programs that Anne oversees and operates a small jewelry business right from the heart of Lassonde.
Juliana Duran made an inspiring point in the discussion on the flexibility of the entrepreneurship major, and most of the panelists also speak to the ability to wear a lot of different hats as a small-business owner. By owning and operating small businesses across a variety of spectrums, "from jewelry to video games," Camryn mentioned, gives entrepreneurship students the experience to be successful in whatever path of life they choose to follow.
While there were many notable takeaways from the panel discussion, the main emphasis that college is a time to learn from experiences and cultivate a lifestyle that allows you to flourish come graduation. The entrepreneurship major calls to students from all backgrounds and unites them with a spirit of creativity and passion to change the world around them. Consider the entrepreneurship major as an opportunity to get your hands dirty with first-hand experience owning and operating your own company — you'll thank yourself.
Your premier Eccles Experience. Business Career Services (BCS) offers comprehensive career coaching and resources to students at the David Eccles School of Business. Paired with a dedicated corporate outreach team, BCS also allows students to gain real-world experience through job and internship opportunities with top employers. For more information, visit Eccles.link/BCS.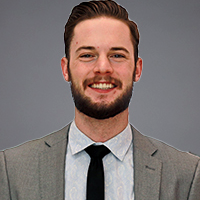 About the Author
Nolan is a Senior at the University of Utah and will graduate with a degree in Marketing. Since moving to Utah in 2017, he has served several different roles for the business school, including as an Eccles Ambassador for the Business Scholars Program and as a Business Career Ambassador for the Business Career Services Team. He looks to pursue a career in the Sports Marketing industry when he graduates in May of next year.