In their most recent episode, the Hey U Podcast team interviews Jennifer Jacobs-Munson, vice president of member services and Utah site lead at Collective Health. The interview revolves around the complexities of a decades-old healthcare system and what companies like Collective Health are doing to both streamline and simplify healthcare administration.
As college students begin the search for full-time careers after graduation, the value of a company like Collective Health becomes increasingly relevant. Collective Health was founded to simplify an outdated healthcare infrastructure. They have been successful by offering "a B2B2C relationship," as Jennifer describes it, working with companies to administer healthcare plans and provide customer service to employees.
Collective Health boasted a 100% renewal rate in 2019. They sustain this competitive advantage by leveraging technology, offering superior customer service experience, and giving their customers valuable insights into offered programs.
Collective Health prioritizes customer experience. Their customer experience center, located in Lehi, UT, sets the standard for how companies should treat their own employees. "When you think of calling your insurance company, you probably start having nightmares right away," Jennifer says, and Collective Health combats this by offering 1:1 communication to their customers through their customer advocates. Internally, Collective Health advocates the health and wellness of their employees, paying 100% of premiums for medical, dental, and vision plans. Jennifer also noted that the physical design of the office was crucial to making their employees feel welcome. The work Collective Health does is tough, and they wanted to help create a space where employees could unwind and relax.
Check out the full episode at Eccles.link/HeyU or on your favorite podcast platform.
Your premier Eccles Experience. Business Career Services (BCS) offers comprehensive career coaching and resources to students at the David Eccles School of Business. Paired with a dedicated corporate outreach team, BCS also allows students to gain real-world experience through job and internship opportunities with top employers. For more information, visit Eccles.link/BCS.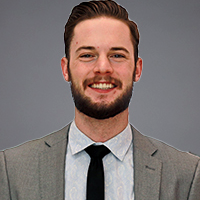 About the Author
Nolan Faley is a senior at the University of Utah and will graduate with a degree in Marketing. Since moving to Utah in 2017, he has served several different roles for the University, including an Eccles Ambassador for the Business Scholars Program, a Business Career Ambassador for the Business Career Services Team, and a Manager for the Women's Volleyball Team. He looks to pursue a career in the Sports Marketing industry when he graduates in May of 2021.