The Gear-Up: Operations and Supply Chain Online Career Fair brought in companies from around Utah, with employment opportunities throughout the U.S. At a time where jobs seem a little harder to come by, it was exciting to see so many companies attending college recruiting events and actively hiring.
Among the companies represented, Maverik hosted a few sessions that gave valuable insight into what it's like to work for "an outdoor adventure company, disguised as a convenience store."
"At Maverik, we don't just talk about adventure, we live and breathe adventure. It's in our blood. It's what brings people together and forms lifelong bonds. It's what challenges us and forces us to do better. We truly believe that adventure enriches life, and enabling adventure is why we do what we do. It's the cornerstone of our business," emphasized Paul Grace and Dana Wahlstrom, Recruiting Partners. "It's what makes Maverik a great place to work. Maverik is committed to building the world's best convenience experience on the planet, and it all starts with our amazing people. We are always on the lookout for people with an adventurous spirit."
The integration of this adventurous spirit into the company makes Maverik stand out. While discussing the company's culture, Paul pointed out that he represented the typical employee — he loves his job, enjoys his coworkers, and has a passion for the work. Maverik boasts 6,000 employees and 350 operations in more than 10 states and is a billion-dollar organization. The company excels at providing great customer service, which includes planning, building, and operating the most adventurous convenience stores in the nation. Furthermore, Maverik is a company that is growing both externally and internally. With dedicated employees who are passionate about success for the company and care for the customer, Maverik is an excellent place to have a career.
The Maverik Basecamp (headquarters, located in downtown Salt Lake City) is actively hiring in process implementation, accounting, marketing, and more. Maverik also offers tuition reimbursement up to 80%, and scholarship opportunities for both employees and non-employees. Maverik gives you the opportunity to connect your business background with a company that is growing fast!
Your premier Eccles Experience. Business Career Services (BCS) offers comprehensive career coaching and resources to students at the David Eccles School of Business. Paired with a dedicated corporate outreach team, BCS also allows students to gain real-world experience through job and internship opportunities with top employers. For more information, visit Eccles.link/BCS.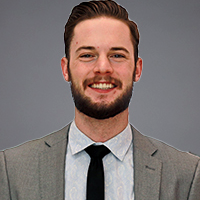 About the Author
Nolan is a Senior at the University of Utah and will graduate with a degree in Marketing. Since moving to Utah in 2017, he has served several different roles for the business school, including as an Eccles Ambassador for the Business Scholars Program and as a Business Career Ambassador for the Business Career Services Team. He looks to pursue a career in the Sports Marketing industry when he graduates in May of next year.