Each year, Business Leaders Incorporated (BLinc.), the undergraduate student government of the David Eccles School of Business, highlights the achievements of student leaders and organizations through the Student Leadership Awards. Winners are nominated by students, faculty, and staff in recognition of their excellence in leadership and involvement. This year's virtual event highlighted the extraordinary effort student leaders embraced during the past year.
Ainu Kaufusi, BLinc. CEO, addressed the challenges and emphasized that student leaders truly embraced the Eccles pillar of "entrepreneurial grit" as they developed innovative ways for students to stay connected and engaged.
"More than any other year, we really can see the importance of student leaders and the role that they play in connecting everybody and immersing you in this [Eccles] community," said Assistant Dean Andrea Thomas. "It is as important in your future, as the education that you receive."
In 2020-21, BLinc. lead more than 70 events and training, welcomed 700+ students, supported and funded 28 student organizations, and continued to be an advocate for the student voice with Eccles Leadership. They are proud to recognize individual student leaders and groups that exhibited outstanding commitment in growth and initiative at the Eccles School and the University of Utah.
The winners of the 2021 Student Leadership Awards are:
Eccles Student of the Year: Ethan Black
Student Employee of the Year: Juan Estrada
Peer Mentor of the Year: MacIntyre Wilson
Engaged Student Leader of the Year: Brian Pham
Emerging Student Leader of the Year: Sarah Preece
Emerging Student Organization of the Year: Fashion in Business
Commitment to Community Award: Women in Business
Commitment to Innovation Award: Out for Business
Watch the awards event below and learn more here.
Your premier Eccles Experience. Eccles students have an abundance of opportunities beyond curricular life. Get involved, meet new people, develop your skills, and have fun! For more information, visit Eccles.link/StudentOrg.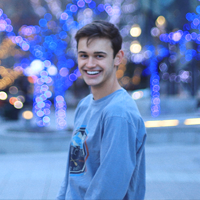 Kade Schweitzer is a Pre-Business student at the David Eccles School of Business. He currently serves as an intern for the Marketing + Communications team.