On Wednesday, April 14, 2021, the Out for Business (O4B) student organization, in partnership with the Eccles Alumni Team, hosted a panel of experts for "LGBTQ+ Advocacy: Becoming the Advocate You Were Born to Be." Below, student Brian Pham, Executive Director, O4B, takes us through major takeaways from this extraordinary discussion. Watch the full discussion on YouTube here.
---
On April 14, we sat down with Ariel Malan, Program Coordinator at the University of Utah Health Transgender Health Program, and Chloe Agyin, Home Director at Encircle SLC, to explore how allies can become effective advocates for the LGBTQ+ community in the workplace. In this panel, we covered a multitude of topics spanning from the vital role advocacy plays in today's workplace to how to support a transitioning co-worker.
Here are some major takeaways from our discussion:
There's a meaningful difference between allyship and advocacy
As Malan puts it, "To be an ally is to support, and typically refers to someone outside of the marginalized group" while advocacy is different in that "advocacy is ensuring that the disenfranchised groups are front and center in leading the conversation. Amplifying those voices with your privilege whether that privilege be your race, gender identity, sexual orientation, social class, ability, etc."
Agyin offered this definition of an advocate: "An Advocate publicly supports the work of activists — donating, amplifying, lobbying, and driving the message to the broader world. An advocate is either an insider or an outsider who solicits others to join the cause, devoted to raising awareness or funding while engaging hearts and minds."
Everyone can be both an ally and an advocate, but it's important to be able to recognize the differences in that work.
LGBTQ+ advocacy is still critical in today's workplace
Prior to the recent Supreme Court Ruling in 2020, states could choose whether or not to explicitly offer protections to employees based on sexual orientation and gender identity. Discrimination on the basis of sex has been interpreted differently and historically has not included LGBTQ+ people. However, this new ruling changes this and is significant in that the justification used to include LGBTQ+ people can now be used in areas outside of employment including housing, healthcare, access to facilities, and education. The Equality Act, if passed, will offer just this: anti-discrimination protections across key areas of life for queer and trans people without the risk of future presidencies interpreting the law any differently.
Support transgender coworkers by treating them normally
As Malan puts it, "Gender affirmation or transition is a very personal journey. We can't assume what someone may want in the form of support because everyone is unique." The safe standard across the board is to treat your coworker normally, using their preferred name and pronouns. Transgender and gender diverse people don't want to be treated differently from everyone else in the workplace, so "excessive compliments, although positive, if you aren't doing this for other people, will make them stand out."
Advocacy takes time and comes in many, many forms
Advocacy can look like many different things, as Agyin points out: "Advocacy is multidimensional, and it can take place within the individual (including yourself — self-advocacy is a thing!), amongst people, and at systemic and institutional levels. You may find that you have more interest or energy in a single focus, or you might feel better about tackling issues at different levels in different ways at different times. Don't get caught up in feeling guilty about not contacting your legislators (or even perhaps knowing who they are) or knowing the intricacies of government and seeing advocacy through this narrow lens. Keep track of the ways you continue to fight the good fight, and appreciate the range of skills and abilities you employ."
Want to learn more about what you can do to be an even better advocate for the LGBTQ+ community? Follow Out for Business @out4business, watch the full discussion on YouTube below, and check out the list of tips, tools, and resources we've compiled on advocacy here!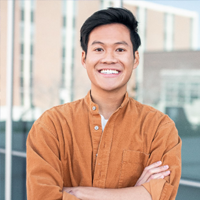 Brian Pham is a marketing major, the Executive Director for Out for Business (O4B), Co-Director of the Entrepreneur Club, and Site Coordinator for the American Marketing Association. He also serves as Senior Student Fellow on the Strategic Storytelling team at the Sorenson Impact Center and was recently awarded Engaged Student Leader of the Year.