Last month, the Business Career Services (BCS) at the David Eccles School of Business hosted a career fair to give students insight into several companies that are currently hiring for jobs and internships. I had the privilege of attending the presentations and Q&A sessions of two companies: Sundance Institute and Health Catalyst.
Sundance Institute is a nonprofit that works with up-and-coming film creators and artists to advertise and showcase their talents through film festivals and other events. The big event each year is the Sundance Film Festival and they typically utilize volunteers and interns during that busy time. Unfortunately, COVID-19 has thrown a wrench into their plans this year, and they are now adjusting to showcase the film festival virtually.
They are seeking volunteers to help with tech support and to coordinate events. These positions give students a great opportunity to see the company up close and understand their business model and values. With the event taking place virtually, this also opens opportunities for students living far away, including international students.
In addition to the film festival, other opportunities exist throughout the year to work and intern for Sundance. One of their big intern/volunteer opportunities is in their summer labs. At these labs, film creators and artists receive professional training in their craft. Interns get to interact with professionals and see how film production works at a high level. For any students wishing to get a jumpstart into film production, Sundance offers an IGNITE event for all their employees and interns to showcase their talents and meet with other creators in the age range of 18-25. This event is a great networking opportunity for people interested in the field.
For more information, follow Sundance Institute on Handshake and check their website frequently for updates.
Health Catalyst is a data analytics company that strives to help hospitals make better decisions by aggregating data from healthcare centers all over the country and analyzing it. This company is an excellent example of a hybrid between business and healthcare. For those that have always wanted to help people in very real ways but aren't interested in clinical roles, this company bridges the gap.
Health Catalyst is currently hiring paid interns and will continue to hire throughout the year. Positions include software engineers and anyone interested in data analytics, but they also have many other career options within the company. Often, these internships are 3-6 months long and can be part-time or full-time commitments. After 6 months of work, interns are eligible for healthcare plans and even 401k options. They have a high conversion rate from intern to permanent employment, which is another reason their internships are a great opportunity.
The info session highlighted the importance of culture to Health Catalyst. They care deeply about who they hire, and they strive for a transparent and communicative environment. The three attributes they value the most are continuous learning, hard work, and humility. They have found that these attributes, when properly integrated into their workplace through their employees, create better patient outcomes. Opinions matter at all levels; low-level employees and even interns are encouraged to offer feedback for the company's improvement. After all, people's lives depend upon it.
Follow Health Catalyst on Handshake and head to their website for more application information!
Your premier Eccles Experience. Business Career Services (BCS) offers comprehensive career coaching and resources to students at the David Eccles School of Business. Paired with a dedicated corporate outreach team, BCS also allows students to gain real-world experience through job and internship opportunities with top employers. For more information, visit Eccles.link/BCS.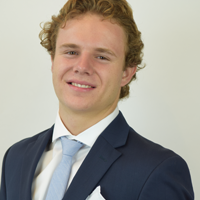 About the Author
Nathanael Hooper is a sophomore studying business administration and psychology and he plans to attend medical school. He is a Business Scholar with an avid appetite for reading, playing sports, and doing anything outdoors – particularly climbing and skiing. He is from Cincinnati, Ohio and loves the mountains of Utah.