Milwaukee, Dirt Devil, and Ryobi are all well-known brands of the not-so-well-known Techtronic Industries or TTI Group. Tracy Brown, Salt Lake Regional Manager for TTI, spoke at the Doers Hired Summer Career Fair hosted by Business Career Services (BCS). This event sought to connect students with potential careers and internships.
She led an insightful info session generating interest in the areas of sales, marketing, management, and their newly added Events Specialist positions. She talked about how the company had not only grown exponentially in the last 10 years, moving from a nine percent market share of cordless power tools in 2007 to 42 percent in 2017, but also exhibited incredible growth opportunities for employees. Ms. Brown moved up in just two years from a new hire to a regional manager. Not to mention, the company has grown from a $3.8 billion company to a $7.8 billion company in the last 11 years. So, for those worried about growth and acceleration either in the company or for the company, there is no need to stress when it comes to TTI's performance.
The COVID-19 pandemic has stimulated a lot of homeowners to become frequent "fixer-uppers," which has helped TTI stay extremely productive during this time. Working from home allows people to work on their home, which is one way TTI is thriving in the virtual atmosphere space, specifically in the cordless power tool market. Creating products that are easy to use and convenient to operate, allows the "fixer-upper" segment to maintain their homes while they work from home. Furthermore, TTI looks to continually grow their company, even amidst a global pandemic; their success allows them to actively hire new employees to become a part of the TTI team.
Finally, the company caters to both career-driven individuals and those looking for internships. When it comes to creating opportunities for people to succeed, TTI is a perfect place to gain valuable real-world experience. A heavy emphasis on innovation leaves a lot of room for new hires to be creative and truly leave their mark on the company. Regarding TTI's participation in the Virtual Career Fair, Brown says, "We appreciated the chance to present TTI more thoroughly during the info session—but the chance to meet with students one-to-one in individual chats made the experience for me."  The Eccles School hopes to have TTI back soon for other similar events.
The Doers Hired Summer Career Fair was a huge success, and the companies represented alongside TTI presented many great job opportunities, both career and internship paths, for students to consider in a time where jobs are more difficult to secure.
Your premier Eccles Experience. Business Career Services (BCS) offers comprehensive career coaching and resources to students at the David Eccles School of Business. Paired with a dedicated corporate outreach team, BCS also allows students to gain real-world experience through job and internship opportunities with top employers. For more information, visit Eccles.link/BCS.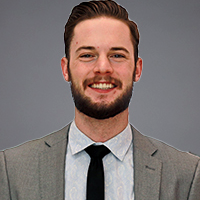 About the Author
Nolan Faley is a Senior at the University of Utah and will graduate with a degree in Marketing. Since moving to Utah in 2017, he has served several different roles for the business school, including an Eccles Ambassador for the Business Scholars Program, and a Business Career Ambassador for the Business Career Services Team. He looks to pursue a career in the Sports Marketing industry when he graduates in May of next year.