The Association of Latino Professionals for America (ALPFA) was the first national organization focused on the development of Latino professionals and continues to provide men and women with opportunities for internships and jobs at the largest companies around the world. Their mission is "to empower and develop Latino men and women as leaders of character for the nation, in every sector of the global economy…" and this could not be more true. Our University of Utah chapter of ALPFA alumni have gone on to work at Goldman Sachs, Fidelity, Protiviti, and more!
We host regular events, including panels with industry professionals, recruiting seminars, and workshops on how to build LinkedIn pages and stand-out resumes. There are also social events to network with your fellow ALPFAmilia as well as industry professionals and recruiters. These experiences are valuable to those who are first-generation college students, as well as students who are simply looking to take their skills to the next level. We welcome everyone from freshmen to seniors of all majors and disciplines. We are eager to support you and each other, and hope to see some new and old faces this year!
Learn more on our campus connect page at Eccles.link/ALPFA, follow us on social at @AlpfaUtah, or email us at ALPFAUchapter@gmail.com.
Your premier Eccles Experience. Eccles students have an abundance of opportunities beyond curricular life. Get involved, meet new people, develop your skills, and have fun! For more information, visit Eccles.link/StudentOrg.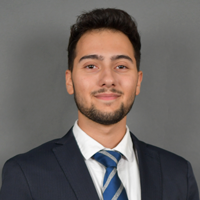 Ali Salman is a senior studying Finance and Pre-medicine, as well as the President of the Association of Latino Professionals for America. He was born and raised in Salt Lake City by an Iranian father and Uruguayan mother. He has served in numerous leadership roles around campus and hopes to continue making a positive impact on his community