Having grown up in the suburbs of Utah and having minimal exposure to large, urban populaces like San Francisco, the Quantitative Analysis of Markets and Organizations (QAMO) trip was an eye-opening and fruitful learning experience. We had the pleasure of visiting a variety of organizations, varying from large, established tech companies, such as SAP and Google, to companies living and breathing the California startup culture, such as Pando.
The most intriguing company for me was Turnitin. We met with their CEO, Chris Caren, who explained the ins and outs of the plagiarism detection company. Topics we discussed ranged from expanding product lines, the future of education, regional restrictions and barriers to entry, and the company's role in helping educational institutions.
In our downtime, we attended an Oakland A's game, enjoying baseball and garlic fries with a scent so strong, Professor Scott Schaefer said that "not enough gum in the world could mask the smell."
From the discussions of strategy of Blackberry's pivot from phones to security software to Uber's analytical approach to pricing, the trip had a variety of application of business economics. Whereas I have had enough discussion about economics and game theory to last me a lifetime, the unforgettable experience I had in San Francisco will be a highlight of my college career. The trip provided unique learning opportunities that no traditional classroom ever could, as I was surrounded by other motivated QAMO students. Thanks again to the Marriner S. Eccles Institute for Economics and Quantitative Analysis, Ken Aoki, and Scott Schaefer for making all of this possible!
---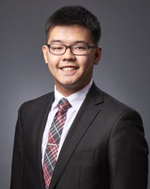 Alvin Tsang is a Quantitative Analysis of Markets and Organizations (QAMO) major at the David Eccles School of Business.