Members of the Phi Beta Lambda (PBL) club rocked the State Phi Beta Lambda (PBL) 2021 Awards of Excellence! Eccles students went up against other Utah college students to test their business knowledge and skills. They will now move on to compete at the National Leadership Conference this summer.
"These awards are important because they represent our chapter members' excellent professional and business skills and preparation," explained PBL Chapter President Landon Haslam. "Our members competed with those from other colleges and universities from across the state and were able to excel. Our seven members who competed brought home 26 top-four awards. I'm proud of our chapter, and I'm sure each member is proud of themselves as well."
Why get involved in PBL?
Not only is PBL the largest career student business organization in the world, but the University of Utah chapter is also a great way to elevate your Eccles Experience.
"PBL has been one of my favorite experiences at the U. It's a great way to network and make friends," Haslam said. "It also allows students — from freshmen to seniors — to develop and test their skills in a variety of business areas of expertise. I joined it as a freshman and competing in different events helped me pick my major. And now, as a senior, it allows me to compare my skills against my peers in a low-stakes environment. I can't recommend PBL enough."
Learn more and get involved on Campus Connect, reach out via email at utespbl@gmail.com, and follow PBL on social @uofupbl.
Congrats to our Eccles School PBL 2021 Awards of Excellence Winners!
Carly Anderson — Entrepreneurship Concepts (Fourth), Marketing Concepts (Second), Marketing Analysis & Decision Making (First), Retail Management (First), Sports Management and Marketing (First)
Angela Brewerton — Accounting Principles (Second), Financial Concepts (Second), Microeconomics (First)
Jared Collett — Entrepreneurship Concepts (First), Management Concepts (First), Organizational Behavior & Leadership (First)
Branko Fistrovic — Macroeconomics (First), Microeconomics (Third)
Natalie Haerter — Business Ethics (First), Networking Concepts (Second)
Landon Haslam — Business Ethics (First), Future Business Executive (First), Information Management (First), Job Interview (Second), Networking Concepts (First), Project Management (First), Statistical Analysis (First), Strategic Analysis and Decision Making (First)
Xander Johnson — Business Ethics (First), Information Management (Second)
---
Your premier Eccles Experience. Eccles students have an abundance of opportunities beyond curricular life. Get involved, meet new people, develop your skills, and have fun! For more information, visit Eccles.link/StudentOrg.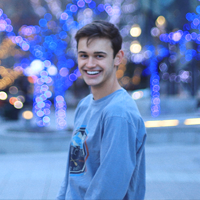 Kade Schweitzer is a Pre-Business student at the David Eccles School of Business. He currently serves as an intern for the Marketing + Communications team.