After a blazing hot summer, the Fall Semester is finally here! We think it's more crucial than ever to make significant efforts to remain in touch and make the most of opportunities and resources here at the Eccles School.
A few weeks ago, BLinc (Business Student Government) hosted our annual Party On The Plaza. At this event, there were more than 40 different clubs ranging from Women in Business, Real Estate Club, all the way to Foam — a student-run laundry service! A key aspect of the event we wanted to capture was providing a warm and welcoming environment for all students who were returning for the upcoming semester or starting their very first day.
We wanted to know how students were feeling about the upcoming semester. Throughout the event, students could scan a QR Code and fill out our survey, Tell BLinc What You Think. Here, students can leave anonymous feedback about the Eccles School and about events BLinc hosts. One of our goals with the survey is to improve based on the feedback and suggestions students leave. If we can make a difference in one student's experience at the business school, we feel we have done our job. It is essential to take the feedback and make necessary changes to improve the experience for students, staff, and faculty.
"The business school is great because they have so many opportunities for everyone and lots of events to help you get involved on campus," said a sophomore marketing student.
As students were coming to each table, they were greeted by pizza from Little Caesars, ice cream from Penguin Brothers, and plenty of snacks throughout the day. Despite the hot temperatures, students said they thoroughly enjoyed the event and were pleased with the number of clubs available for students to join. Students also were able to learn about the significance of meeting with their career coach or thinking about studying abroad with Eccles Global.
Around the event, students could also go around to tables and interact with the activities at each station. One of those activities was an opportunity drawing at the BLinc table — students could enter the drawing by taking a picture at the David Eccles School of Business backdrop and tagging us on Instagram. Students could later win a Cotopaxi backpack, Campus Store gift card, or an Amazon Echo Dot! Stay tuned to our Instagram (eccles_blinc) to see the winners of the drawing!
Here at BLinc, we would like to thank all of the students, staff, and faculty who came out to Party on the Plaza this year. It was a huge success and couldn't have been done without the laughter, food, students, and resources of our amazing business school. But we're not finished! Coming up, we have our September Service Project: Pups & Cups on Thursday, Sept. 15, 2022, 11 a.m. – 1 p.m., on the Emma Eccles Jones Plaza (between SFEBB and the CRCC building.) We will be making dog toys for a local animal shelter and having CupBop, Korean BBQ in a cup!
At the end of the month, we will host our annual Eccles Gala on Wednesday, Sept. 28 from 4:30 – 6:30 p.m. Thank U!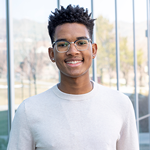 Jhareil Hutchinson acts as the Director of Communications for BLinc, the Business Student Government. He is a marketing major and also pursuing a media studies and entrepreneurship minor.