In partnership with Business Career Services, Opportunity Scholars recently launched a new mentorship program for scholars within the program. This program kicked off in October, bringing several employers to campus to connect with these first-generation students regarding their career journeys and experience.
Part of the event featured speed networking, allowing mentors to rotate between tables of three to four students. As a result, companies were able to learn more about students and answer lots of questions.
"Many students expressed how much they enjoyed the networking session and the chance to be in a space where they could connect with their peers and prospective mentors," said Latu Kinikini, Opportunity Scholars associate director. "They see the value in a mentor and realize that it takes time to build relationships. We are creating a flexible mentoring structure to show students how to network for the first time and create excitement to be matched with a mentor."
Business Career Services staff members Molly Coughlin, Ashlee Roberts, and Suzy Shurtliff facilitated the event, providing tips for mentees and mentors to get the most out of this new experience.
"Business Career Services works hand-in-hand with the wonderful Opportunity Scholars because we know finding fulfilling careers is important to each of them," said Shurtliff, associate director for Career Education. "We were happy to collaborate on the Mentorship Kick-Off event and introduce many area professionals to students early in their academic experience."
Moving forward, students will be paired with a company mentor, gaining first-hand experience and support.
The Eccles School is proud of our Opportunity Scholars and this fantastic program designed to support and enhance the educational experience of first-generation business students as they progress toward graduation. For more information, visit Eccles.link/opportunity-scholars.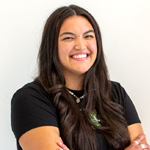 Haylie Heale is a senior studying Marketing and Information Systems at the David Eccles School of Business. She is currently an intern for the Marketing and Communications department and a Diversity Ambassador for the Office for Student Inclusion.