The Opportunity Scholars Program at the David Eccles School of Business kicked off a new academic year with a service project.
"Service is one of the core values for Opportunity Scholars," says Latu Kinikini, Opportunity Scholars associate director. "It is who we are. We are proud to be a part of the community and always strive to give back."
This year, students partnered with West Valley City to support three projects:
Community Preservation Building and City Park
Forty students worked alongside West Valley City Neighborhood Services Project Leads Craig Thomas and Alex Hilse to assist with the maintenance of the city park. Split into two groups — students helped weed, trim shrubbery, and clean up the overgrown plantation around the park entrance, while others painted the outside of the bathroom and the pavilion areas.
"I love being a part of Opportunity Scholars and being able to go out and help people and bonding with other scholars while doing it," said sophomore Jael Jaimes.
Centennial Park
Thirty-five students headed to Centennial Park to assist with park maintenance and clean-up. Working with Mark Talbert of West Valley City Neighborhood Services, they helped plant trees, remove debris, paint curbs, clean the pavilion area, and pick up trash.
"I had fun working with the other scholars for this project," said junior Laura Ponce. "We were assigned to plant a tree, so I'm excited to go back and see the tree I planted later on this year."
Graffiti Clean-Up
Led by West Valley City Coordinator Jake Shafizadeh, 15 students rounded up the service project areas by painting graffiti-plastered walls in a West Valley neighborhood.
"As a West Valley student, is it wonderful to see our community cleaned up," said Eduardo Flores. "I am grateful to be a part of a program that allows me to take part in the services to accomplish that."
Afterward, program students and staff came together to bond and celebrate their important work with a park luncheon.
The Eccles School is proud of our Opportunity Scholars and this fantastic program designed to support and enhance the educational experience of first-generation business students as they progress toward graduation. For more information, visit Eccles.link/opportunity-scholars.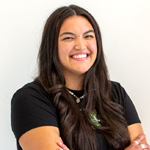 Haylie Heale is a senior studying Marketing and Information Systems at the David Eccles School of Business. She is currently an intern for the Marketing and Communications department and a Diversity Ambassador for the Office for Student Inclusion.