What is IMPACT?
IMPACT is a program at the University of Utah that is currently in partnership with Howard University, a Historically Black University, and a variety of corporate sponsors in Salt Lake City, Utah. This initiative focuses on internship, mentorship, professional development, academic achievement, community engagement, travel, and tourism. A cohort of students immerse themselves in a new environment as they dive into a field of interest and are able to explore a new climate at high altitude, indulge in life changing opportunities, and experiences.
Simone Lawrence, program manager for IMPACT, said "Coming from Howard University, I was able to learn a lot about myself as I navigated through a new space."
As students are placed in unfamiliar cultures, they are able to make an impact at their individual companies by bringing in alternate perspectives and experiences. What sets this program apart from many is that students are able to be impacted all while being the impact— it is amazing to witness growth at the end of this 12- week program.
What are the hopes for the future of IMPACT?
With this being the third year of IMPACT, there are many hopes for the future of this program. As the majority of the students in the program attend Howard University, it is a goal to expand and build relationships with other universities nationwide. With diversifying the universities that are participating in this program, it will allow the opportunity for more students to be exposed to new heights, and they, too, will be able to expand their horizons in a new environment.
The mentors that participate in this program have the opportunity to guide students as they matriculate through this program and are introduced to a new culture, a variety of activities, and networking opportunities. Lawrence is determined to impact the lives of students as she believes that "nurturing and providing resources" for them to thrive in new spaces will allow one to learn, grow, and continue to show up with the intent to make a difference in the world. IMPACT has allowed students to appreciate the process of taking risks and being rewarded for their courage and hard work.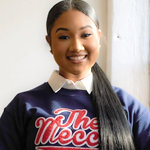 Kamryn Monroe is a Marketing + Communications intern for the David Eccles School of Business. She is a sophomore and marketing major attending Howard University from Windsor, Connecticut. After college, she hopes to work in an innovative, diverse space where strategy and creativity collide.