One of the best things a college student can do is get involved within the community around them, and a great way to do that is through student clubs.
Kerry Larson, a junior in Finance and vice president of recruitment for the Finance Club, credits her involvement in the club with helping her fully jump into her Major and the Business School.
"Finance Club aims to help prepare students for their future careers in the field. Within the club, I have found many networking opportunities, help with interview prep, and a solid community of people I can lean on," she said.
The Eccles School offers a variety of clubs for students looking for new opportunities and a community of support.
Out for Business, which was awarded Student Organization of the Year, is a professional development and community outreach group that develops relationships, resources, and education among faculty, staff, students, and companies for the benefit of LGBTQ+ business students. And while students may know about Lassonde Studios, they may not be aware of the Entrepreneur Club, a hub for students who are interested in becoming entrepreneurs and innovators. No matter your interests, there is an organization for you. Explore at Eccles.link/studentorg.
Although many events cannot take place in person this semester, the Eccles School has made it a priority to ensure students can continue to make and build important connections. You'll find upcoming events at Eccles.link/events including the Women in Finance "Bring Your Lunch" Virtual Mixer with Goldman Sachs on Sept. 23, 2020, and the "13th" Documentary Viewing and Discussion Party hosted by BLinc. and Women in Business (WIB) on Thursday, Sept. 24, 2020.
Want to learn more? Join BLinc. during office hours where you can learn about which student organization may be a good fit for you! Office hours occur weekly on Mondays from noon-1 p.m. Sign-up here.
Your premier Eccles Experience. The David Eccles School of Business provides numerous opportunities for engagement, including internships, case competitions, scholar programs, and more than 30 student clubs and organizations are an essential part of your Eccles Experience.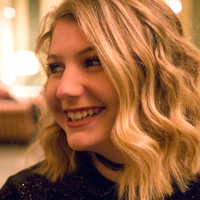 About the Author
Anna Terry is a Marketing and Information Systems student at the David Eccles School of Business. She currently serves as an intern for the Marketing + Communications team.