About to go to class but too tired and need some coffee? Campus has that on hand for you. Just finished listening to a two-hour lecture in class and need a meal to refuel? Campus also has that covered! Here are some spots to check out going into Fall Semester.
1) Blockchain Café
Blockchain Café features food from Jeeva's Greek Café and is located in the Garff building. It is open Monday – Friday from 7 a.m. to 3 p.m. It just opened up, so you should definitely go and check it out.
2) Madsen Café
This tasty café opened last spring and offers smoothies, coffee, and sandwiches from Two Creek Coffee House. It is open Monday – Thursday, 7:30 a.m. to 6 p.m., and on Fridays, 9 a.m. – 2 p.m. For easy ordering, you can download the Two Creek Coffee app.
3) Urban Bytes
Urban Bytes is a dining hall located in Kahlert Village that provides various food options – from bagels, fruit, and Philly Cheese Steaks to Drunken Noodles with Tofu and Rigatoni Mezzi. The meals change daily, but burgers and Mexican foods are always available. It's open for breakfast, lunch, and dinner.
4) Museum Café at UMFA
Just a few steps away from the SFEBB and CRCC, you can grab sandwiches, salads, and coffee from the Museum Café located inside the Utah Museum of Fine Arts (UMFA). They are open Monday – Friday, from 8:30 – 4 p.m., with food service from 11 a.m. – 2 p.m.
5) Carolyn's Kitchen
Carolyn's Kitchen is located in Gardner Commons and is a great spot to go to if you don't want to go to the dining hall. It's a sit-down restaurant type that provides delicious ramen and chicken. It's open Monday – Thursday, 10:30 a.m. – 5 p.m., and Friday, 10:30 a.m. – 2:30 p.m.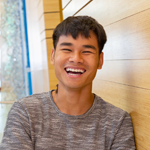 Sha Kler is a rising sophomore and First Ascent Scholar at the David Eccles School of Business. He currently serves as an intern for the Eccles Marketing + Communications team.