From LA to New York and many cities in between, the David Eccles School of Business Master of Real Estate Development (MRED) network continues to grow across the nation. Mostly concentrated in the Wasatch Valley, MRED graduates manage hundreds of millions of dollars in real estate developments, construction, and various investment funds for corporations large and small.
"Due to the huge success of our graduates, demand for the program is at an all-time high," said Danny Wall, director of the MRED program. With an average cohort of 75 students, the MRED program continues to add new features to its already challenging curriculum, including updating curriculum and student experiential opportunities to focus on the most recent development trends.
Among the many celebrated successes of the program, Wall highlights their tireless efforts to find solutions to Utah's growing housing crisis by partnering with several companies across Utah and the MRED alumni network.
Event Highlight Speaker: Bradley Holmes, MRED alumnus of the year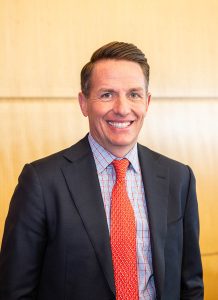 "I didn't grow up in a family that valued education," said Bradley Holmes, president at Larry H. Miller Real Estate. In 2012, Holmes held an online degree from a small university and was working as a facilities manager. Holmes, who has a background in construction, said he realized he needed a master's degree if he was to grow his career in this industry.
Fast forward to the present, and, after earning his MRED degree, Holmes is managing a portfolio worth $800 million in assets in Utah and across the U.S.
He attributes his much of his success to his time in the MRED program, including the iconic projects he engaged in, the world-class faculty he worked with, and the network he formed during his time at the Eccles School.
Today, Holmes remains an engaged member of the MRED alumni network and hopes to employ and inspire many other Eccles School alumni.
Congratulations to the MRED program, its students, faculty, staff, and alumni for a decade of success! Here's to the next 10 years!