As we dive deeper into the summer months, sometimes those beautiful, sunny days can be just a little too hot for any kind of comfort. You know, those days when sunscreen doesn't seem to block any of those harsh rays? If you're looking for things to do instead of cranking up your AC, you're in the right place. Here are four things to do on days where the valley heat is just a little too much.
1) Silver Lake
Want to beat the heat in the valley? Head into Utah's beautiful mountains. Silver Lake, at the top of Big Cottonwood Canyon, is a perfect spot. With a nice temperature drop, you can hike, fish, picnic, and enjoy some nature while staying cool.
2) Go Tubing
Cool down in mountain water as you float down the Weber River. There are a variety of spots where you can float lazily through swift water or find more action with small rapids. You'll see rock formations, arches, caves, and local wildlife too. You can even rent a tube (or a boat or kayak!) from Campus Rec. campusrec.utah.edu
3) Utah Museum of Natural History
Looking for something indoors? The Utah Museum of Natural History is a wonderful place to explore. Located on campus, you can learn about Utah and its fascinating geographic history, and check out their new exhibit, Egypt: The Time of Pharaohs. nhmu.utah.edu
4) Zeppes
Sometimes you just need to chill out with a summer treat. And there's no better way to do it than getting some delicious Italian Ice. With a plethora of unique and delicious flavors, Zeppes offers a much tastier way to cool off than sitting at home next to the fan. zeppesusa.com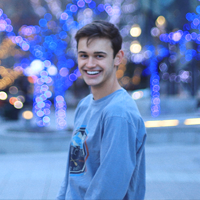 Kade Schweitzer is a Pre-Business student at the David Eccles School of Business. He currently serves as an intern for the Marketing + Communications team.