Can you successfully make a career pivot while working and earning a part-time MBA? Just a decade ago, full-time MBA programs were largely considered the best pathway for those seeking to make sweeping career changes. Nowadays, part-time MBA programs that allow students to work full-time while pursuing an MBA have seen overwhelming increases in students making successful employer, industry and functional changes during and after earning their MBAs.
Students, faculty, career coaches and employers agree — switching careers in the middle of a part-time MBA requires planning and work. But by leveraging MBA curriculum, network and career advancement services, students have been able to make enormous gains in their careers.
This is one of three stories highlighting University of Utah David Eccles School of Business Professional MBA students who made major career pivots. Learn about the surprising turns their careers took to get them to where they are and how an MBA helped them land their dream jobs.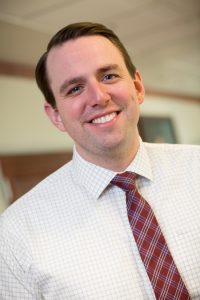 When Bennett Askew entered the University of Utah David Eccles School of Business' Professional MBA (PMBA) program in 2016, he already knew he wanted to change career paths. Askew worked in finance in the University of Utah's athletics department before moving to a finance position at the University Hospital. However, Askew's goal when entering the PMBA program was to return to athletics.
"I started the MBA program to help with my future and increase the odds of moving up the ladder, learn skills applicable to do so, and get a management-level position," Askew said.
Askew worked with both Abe Bakhsheshy, one of his professors at the Eccles School, and the Career Advancement Center, to transition back into a career with athletics. Askew sought advice from Bakhsheshy (lovingly known as Dr. Abe on campus) on this transition and the practicality of changing industries.
"It was one of these things where he knew I had done it before and said that I was young enough that if I was going to make the move, it would be best to do it sooner rather than later," Askew said. "Also, having an MBA will still benefit me no matter what career path I go down — that's just how versatile it is."
Askew knew prior to starting his MBA that he wanted to change industries, but his decision was confirmed when he began the program.
"Talking with the staff and with Dr. Abe, going through the coursework, and realizing how much time and energy you put into advancing your career, I knew that's what I wanted to do," Askew said. "The whole process of going through the MBA coursework, it reaffirmed my desire to get back into athletics."
The PMBA Career Advancement Center, especially career coach Marc Levy, helped Askew make this goal into a reality by preparing him for the job-search process.
"Marc Levy did a few mock interview-type meetings just to help me prepare," Askew said. "It had been a little while since I had an interview, as far as a new job was concerned."
His preparation and his work with faculty and staff ultimately paid off as Askew was able to land a job working as a business contracts and fiscal manager with Washington State's athletics department.
Askew has gained exciting responsibilities with his new position. He now oversees the entire financial operations for about half of the sports at the university. Additionally, he oversees contracts with companies like Nike and Gatorade.
Beyond returning to his desired career in athletics, Askew has seen additional returns on his investment from obtaining an MBA.
"You get to know the individuals in your cohort really well, and some of the people I worked on projects with are going to be my lifelong friends," Askew said. "There's a huge return on investment that I have already personally seen, so I think it's 100 percent worth the time, energy and effort it takes to get through the program."
Learn more the University of Utah's Professional MBA program curriculum and career advancement services. Take your first step by requesting more information, attending an admissions event or contacting our office at 801-581-6836 today.