Last week, the University of Utah celebrated Pride Week! It was a wonderful celebration, but we know that support for our LGBTQ+ community and allies is needed year-round.
The LGBT Resource Center on campus provides support, a safe space for student interaction, and educational resources. Visit lgbt.utah.edu to see virtual office hours, find community in their Virtual Student Lounge on Discord, and ask a question anonymously via their "Queer Peers" message service. You also can find connections to local centers including the Utah Pride Center and Equality Utah.
And although the University's Pride Week is over, Salt Lake's Pride Week is coming up! From June 1-7, 2021, the Utah Pride Center will hold an in-person, COVID-safe modified version of the annual parade and festival including a Pride Story Garden and the Pride in the Sky Fireworks Show. For more information on the week, purchasing tickets, or applying to volunteer, visit utahpridecenter.org.
And don't forget to check the Out For Business student club, a professional development and community outreach group that develops relationships, resources, and education among faculty, staff, students, and companies for the benefit of LGBTQ+ business students. Follow them at @Out4business to get involved and find events such as the LGBTQ+ Advocacy Panel on April 14.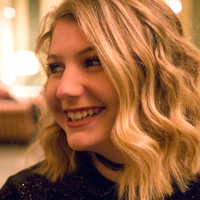 Anna Terry is a Marketing and Information Systems student at the David Eccles School of Business. She currently serves as an intern for the Marketing + Communications team.