Editor's Note: The David Eccles School of Business is celebrating Earth Day (April 22) this week by sharing stories of Eccles student entrepreneurs and organizations that highlight sustainability.
Undergraduate students at the University of Utah, Brian Landauer, Finance; Daniel Thorn, Design; Chase Martin, Finance; and Henry Wall, International Studies, came together to develop Krum, a fresh approach to making cold brew coffee at home. Krum's goal is to create delicious coffee that is easy to make and safe for the environment. Sustainability is a key part of Krum's mission, and their coffee is sourced from sustainable sources. With help from the Company Launch Program at the Lassonde Entrepreneur Institute, Krum has sold more than 250 products and counting. Read more about their company here, and follow Krum on social @krum.  
The Lassonde Entrepreneur Institute is a nationally ranked hub for student entrepreneurship and innovation at the University of Utah and an interdisciplinary division of the David Eccles School of Business. Learn more at lassonde.utah.edu.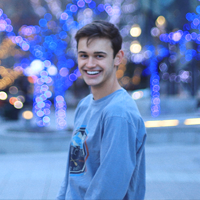 Kade Schweitzer is a Pre-Business student at the David Eccles School of Business. He currently serves as an intern for the Marketing + Communications team.