If you're hungry and looking for something new to try, you've come to the right place. The University of Utah has lots of places to grab some grub! Check out these seven spots on campus to satisfy any appetite.
Food Trucks
If you're looking for something fun, food trucks are the perfect option. Located in the library plaza during lunchtime, there is a delicious range of local and international cuisine, from Tikka Masala to tacos.
Urban Bytes
Located at Kahlert Village, Urban Bytes is the largest eatery on campus, with over a half-dozen dining options! Find early breakfast, late dinner, and everything in between, including coffee and pastries. Use your meal plan and dining dollars here.
Carolyn's Kitchen
Located on the first floor of Gardner Commons, Carolyn's Kitchen has several dining options, ranging from southern-style chicken to healthy vegan and vegetarian options. Open for breakfast and lunch only, it's a great place in between your morning and afternoon classes. Use your flex bucks here.
Market To-Go
Up late studying? Feed your brain and your stomach at Market To-Go in the Marriott Library. Open until 11:30 p.m., Sunday to Thursday. Use your flex bucks here.
Miller Cafe
The Miller Cafe at Lassonde Studios offers an eclectic menu of smoothies, omelets, flatbreads, burgers, and more. It is open 24/7 for residents and from 7 a.m. – 10 p.m. for everyone. Use your meal plan and dining dollars here.
Blockchain Café
Looking for something quick and close by? Check out the Blockchain Café in the GARFF Building. You'll find Two-Creek coffee, pastries, and simple lunch items. Open Monday – Thursday from 7:30 a.m. – 8 p.m. and Fridays from 9 a.m. – 2 p.m.
Have your food delivered to the SFEBB
Use your meal plan at the Eccles School! Boost ordering allows you to order food from Chartwells and have it delivered to the Boost cart at the front desk of the SFEBB. Delivery available weekdays from 11 a.m. – 2 p.m. Download the Boost ordering app at Boostapp.io.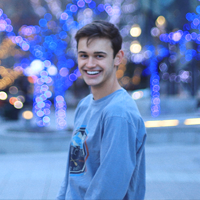 Kade Schweitzer is a Pre-Business student at the David Eccles School of Business. He currently serves as an intern for the Marketing + Communications team.