The First Ascent Scholars program at the David Eccles School of Business recently held its annual Fall Celebration. Like many other events this year, their traditional feast transitioned to a virtual celebration. Scholars, mentors, and staff were able to share their gratitude and catch-up after a long semester.
The online event was paired with a socially distanced outdoor meet-and-greet where students could say a quick hello to their mentors and program staff while picking up a finals-week gift bag.
"It was wonderful to see our kids," said First Ascent mentor Doug Neville, "even if for a few minutes, after so much time apart."
The First Ascent Scholars program cultivates, encourages, and enables academically focused students with significant financial need to attend the Eccles School and connect with the University of Utah, local, and global community while reaching their full academic potential. For more information, visit Eccles.Link/first-ascent.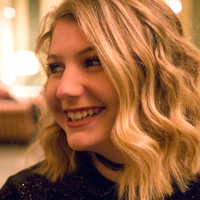 Anna Terry is a Marketing and Information Systems student at the David Eccles School of Business. She currently serves as an intern for the Marketing + Communications team.