The First Ascent Program has been busy with its scholars! They recently took their first-year students to Moab to camp over fall break. This trip allows students to disconnect with the world, be one with nature, and make stronger connections with their fellow First Ascent peers. Students got the chance to engage in different curricular activities that focused on social change, leadership, citizenship, and team building. Taking those lessons into nature, students enjoyed outdoor activities such as canyoneering and rock climbing.
"When we were told that we would be repelling off a cliff, I immediately started to get anxious and scared of the idea," said freshman Marjella Lajuan. "But, when we were in the moment of doing the canyoneering, it brought out the excitement and adventure in me. I am so happy I got to experience that moment with my cohort and the First Ascent staff."
Later in October, the program held its annual First Ascent Game Night. Students and leadership participated in board games, video games, mingling, and food. This event is designed to give students a mental break, have some fun, and reduce stress about schoolwork.
"The First Ascent Game Night is always a stress reliever for me. We spend so much time and focus on classes and other extracurricular things that we don't always take the time to have fun," said Junior Julie Paredes-Pozas. "Our game night assures us that we will be doing nothing besides playing games and enjoying great food with the people we care about."
Even though October was a busy month for the program, these activities continue to build a strong community for the First Ascent Scholars!
The First Ascent Scholars Program cultivates, encourages, and enables academically focused students with significant financial need to attend the Eccles School and connect with the University of Utah, local, and global community while reaching their full academic potential. For more information, visit Eccles.Link/first-ascent.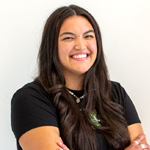 Haylie Heale is a senior studying Marketing and Information Systems at the David Eccles School of Business. She is currently an intern for the Marketing and Communications department and a Diversity Ambassador for the Office for Student Inclusion.