College can be busy! Whether you need help getting started or a cup to finish out the day, your caffeine fix on campus is close at hand.
Two Creek Coffee House
Two Creek is located in the Blockchain Café nearby in the GARFF Building – as well as in the Sutton and William Browning Buildings on campus. They specialize in providing delicious handcrafted espresso, coffee, and pastries. Bonus: They are right next to Business Career Services, so stop by on your way to meet with your career coach!
The Museum Café
Close to the SFEBB, the Museum Café, located in the Utah Museum of Fine Arts is home to local coffee from Star Mountain Roasters. In addition to coffee, they serve light refreshments and soup. Their current hours are Wednesday–Friday mornings through early afternoon.
Red Chair Café
Close to GARFF, the Red Chair Café, located in the Sorenson Arts & Education Complex, is home to foods and coffee from local providers. The café is run by La Muse d'Or. In addition to coffee and espresso, they serve breakfast and lunch. Their Fall Semester hours are Monday–Friday from 8 a.m. – 2:30 p.m. The café opens Aug. 23. Mention the code Sierra and receive 25% off one item through Aug. 31.
Starbucks
Need I say more? If you need your caffeine fix, you can always count on Starbucks to get the job done. Starbucks is located in the University Campus Store, so make sure you grab a drink while browsing all of the amazing swag!
Miller Café
Located in Lassonde Studios, Miller Café offers a plethora of options from snacks and coffee to salad and sandwiches. There is plenty of room to hang out with friends or get some homework and studying done.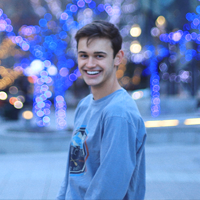 Kade Schweitzer is a Pre-Business student at the David Eccles School of Business. He currently serves as an intern for the Marketing + Communications team.