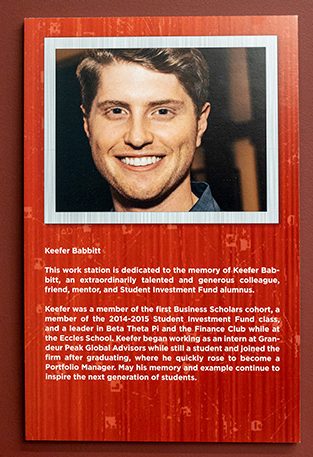 Professor of Finance and Director of the Advanced Financial Analysis Program Elizabeth Tashjian led a ceremony in the Jack & Jeanne Okland Trading Floor on April 5 to dedicate a special workspace in memory of Finance alum Keefer Babbitt.
Babbitt, who passed away in January of 2021, earned his degree in Finance from the David Eccles School of Business in 2015. He was a committed student and held many leadership roles. He could often be seen in the trading room surrounded by peers and friends discussing investment strategies.
Keefer balanced his busy collegiate schedule with an internship at Grandeur Peak Global Advisors, which turned into an extraordinarily successful nine-year career at the company.
On hand for the ceremony were Babbitt's wife, Riley, and his parents, Rod and Judy Babbitt. Also in attendance were many friends, colleagues, and Eccles School faculty and staff. Remarks were given by former Dean of the Eccles School and now President of the University of Utah, Taylor Randall; Mark Madsen, Portfolio Manager at Grandeur Peak; and Babbitt's long-time friend and fellow Finance graduate Chas Foote, who spoke virtually from Palo Alto, California.
Tashjian kicked off the dedication by acknowledging the plaque installed above the workspace.
"It's wonderful to see Keefer's smiling face up there — it's a face we know and love," she said. "Keefer was the model student. Not only was he an excellent student, but he was incredibly generous. He made a huge impact on so many people and stayed really deeply engaged in our program after he graduated. With this space, he will continue to inspire students that come after him to be the kind of wonderful student, wonderful mentor and deeply engaged students that he was."
Read Babbitt's obituary here.