The Ethics Club and the Daniels Fund Ethics Initiative at the David Eccles School of Business hosted its second virtual speaking event for students, staff, and faculty. Taking place this past Monday, Nov. 2, the event featured Laurel Bartmess, who focused on how values, grace, and grit always will predict your future success. Here are three key takeaways from this informative event:
1. When starting a company, it is important to set a few core values.
These values should be short and easily memorizable for yourself and your employees and should be able to guide you through each decision you make for your business. A few of the values Bartmess gave her restaurant, Woodland Biscuit Company, only three days after opening were: be honest, be kind, and do better than you want to do or think you can do.
2. You are always tied to the name of your company.
One of the values Bartmess also gave her restaurant was to "Check your ego." It is important in business to understand that although your time is important, everyone else's is as well. And, unfortunately, even on your worst days at worst you are still a direct representative of your company. If you live by your values and have your company's values memorized, this idea becomes a positive for your business instead of a detriment.
3. Business can be hard, but it is all about taking care of each other.
When we really work hard and become really gritty is when we begin to really reach what we are striving for. Being graceful to those you encounter in your day-to-day business, and not just your customers, can make all the difference. Each person we interact with, whether that be the meat distributor in Bartmess' case or anyone else, is also running a business, with their own values.
You can watch the full presentation below.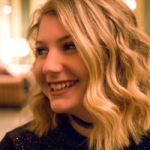 About the Author
Anna Terry is a Marketing and Information Systems student at the David Eccles School of Business. She currently serves as an intern for the Marketing + Communications team.