The First Ascent Scholars program at the David Eccles School of Business kicked off the new semester with their annual First Ascent Family BBQ. Students, families, mentors, and program leaders gathered to get to know each other, build community, and have some fun. This year's event was held at Poplar Grove Park and featured activities such as ring toss, corn hole, soccer, and a fun yet competitive game of kickball.
"I really enjoyed the games, especially kickball," said senior Laurent Ntakarutimana. "It was fun having a little competitive game amongst my First Ascent peers."
To end a great evening, everyone enjoyed a delicious meal from Miss Essie's Southern BBQ.
"The First Ascent Family BBQ was amazing! It was wonderful getting together with students, their families, and our campus partners," said First Ascent Associate Director Luis Lopez. "The food was fire, music was groovy, and kickball was hella fun. Can't wait to run it back next year!"
The First Ascent Scholars Program cultivates, encourages, and enables academically focused students with significant financial need to attend the Eccles School and connect with the University of Utah community while reaching their full academic potential. For more information, visit Eccles.Link/first-ascent.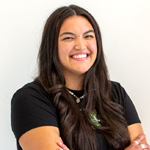 Haylie Heale is a senior studying Marketing and Information Systems at the David Eccles School of Business. She is currently an intern for the Marketing and Communications department and a Diversity Ambassador for the Office for Student Inclusion.