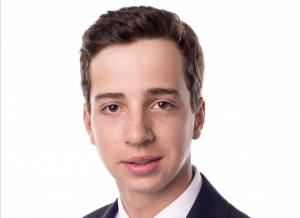 Eccles School student Matthew Froberg has been chosen to present at the upcoming National Conference on Undergraduate Research at Montana State University. Froberg's paper, "Security Design in Markets with Risk: Price and Allocation Efficiencies," was chosen from more than 4,000 submissions.
Froberg is a fourth-year student majoring in Quantitative Analysis of Markets and Organizations and has been studying under Eccles School professor Elena Asparouhova in her Laboratory for Experimental Economics & Finance.
Froberg decided to give research a try and found he enjoys it, and he is considering a career in academia after graduation. He is excited to share his research at the conference and is particularly excited to chat with other finance students.
"Part of the fun is sharing your results," Froberg said. "Experimental finance is pretty unique. I'm interested to see what other research is out there."
Congratulations on a great accomplishment, Matthew!