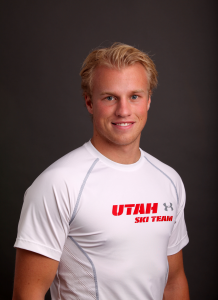 The old cliche says you'll find business conducted on the golf links, but Joergen Brath is far more likely to be found on the slopes.
The senior will graduate with a bachelor's degree in finance this week — as well as an NCAA championship as a member of the Utah Ski Team and a job offer from Goldman Sachs. Not bad for a kid from the small town of Drammen, Norway.
Brath began studying business as a teen in Norway, and knew he wanted to continue his studies at the collegiate level. But the opportunity to combine business with his love of skiing is what drew him to the David Eccles School of Business.
"When I saw the University, I saw that as a great opportunity to come and try to excel in both," Brath said. "Proximity to the mountains, all the outdoor activities — it's pretty great."
The University has deep ties to Norway, particularly through the ski team. Brath is just one of several Norwegians who helped the Utes to the top of the podium at this year's national championships. The win capped off an undergraduate career full of awesome experiences, Brath said, though winning was definitely the highlight. While the team is a major contender every year, they had yet to make it to the title during Brath's years on the team.
It's hard to top winning a national championship, but Brath says many of his Eccles School experiences came close. He cited participation in the Student Investment Fund and a Business Scholars trip to an investment bank in Los Angeles as experiences that will shape his career beyond his undergraduate years. It was on the trip that Brath chose investment banking as a career, which he is excited to begin after graduation at the Salt Lake City branch of Goldman Sachs.
"I really like Salt Lake, it's a great combination," Brath said, adding that he plans to stay in Utah for the foreseeable future. "You have a downtown and you have a city, but then you have all these outdoorsy activities."