Four David Eccles School of Business MD-MBA candidates are dedicating their graduation to raise money for The Children's Center, a non-profit children's mental health clinic.
Anne Dougherty, Andrea Myers, Kevin Powell, and Sonja Blackham worked with the organization for their final marketing and data capstone project. They are now encouraging their family, friends, and community members to donate in honor of National Children's Mental Health Awareness Day on May 7, the day after their graduation. 
Why did the group want to dedicate their graduation to this important cause? They were impressed with The Children's Center and its mission to provide comprehensive mental health care to children and their families.
"Knowing that non-profits like this organization rely so much on word of mouth to gain awareness about the problems in our local community, we wanted to help," Myers said. "An organized campaign with a message for people to rally around is much more powerful than just one person saying 'Hey, I worked with this non-profit, want to donate?' Our team together is stronger than any individual effort we could make separately." 
As the group approaches their graduation, they are looking to the future, not only in their careers but also to the "new normal" our society will need to create in the coming months.
"I think that mental health has been on many people's minds," Powell said. "The last year has been tough and as we begin to turn the corner and return to some sense of normalcy, I think many of us are struggling to get back to a healthy place mentally. The timing of this graduation is not only a new chapter in our careers, but it also marks the beginning of finding a healthy place in that new normal."
The Children's Center was founded by Agnes M. Plenk Ph.D. in 1962 and has since grown into a staff of more than 100 people all strongly dedicated to improving the lives of young children. The Children's Center is the largest agency of its kind in Utah, providing care for more than 2,000 children and families, regardless of their ability to pay.
If you are able to donate or want to see more information on The Children's Center, visit their website. The group is also accepting donations through Venmo at @sonjablackham.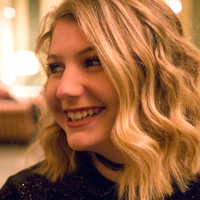 Anna Terry is a Marketing and Information Systems student at the David Eccles School of Business. She currently serves as an intern for the Marketing + Communications team.