More than 23 accounting firms gathered to meet our Eccles accounting undergraduate, graduate, and master's students at our "Meet the Professionals" career fair. Companies in attendance included Deloitte, Grant Thornton, BKD CPAs & Advisors, KPMG LLP, and more.
Looking for interns, assistants, and part- and full-time employees, these public accounting firms networked with accounting students while enjoying the view of Salt Lake City from the Bill & Pat Child Family Community Hall in the Spencer Fox Eccles Business Building.
Some professionals in attendance were recent Utah alumni, which sparked great conversations about the smooth transition from U undergraduate or graduate life to professional accounting in Utah and beyond!
With the goal of getting to know the firms in attendance and their culture, students discussed their own planned or desired career paths and exchanged possibilities. Topics of discussion included internships, work-life balance, company culture, and even upcoming luau open houses!
More than 40 students attended the in-person portion of the accounting career fair, and the opportunities were endless. One-on-one conversations at every table made it possible for students and firms to cover questions they had about one other.
The virtual portion of this career fair proved popular still, with even more students meeting accounting firms via Zoom and Handshake. One-on-one sessions were not abandoned at all; students and firms met in private calls. All received valuable information about upcoming directional shifts for firms, open job opportunities, and career information from the many firms.
We are ecstatic about the success of this career fair and can't wait to hold more in the near future. Upcoming career fairs include Doers Hired: Connect to Business Careers and Parks, Recreation & Tourism Hiring Pop-up, both on Nov. 18.
For more information or to find more career fairs and events, visit utah.joinhandshake.com/events and Eccles.link/events. We look forward to seeing you at more Eccles career fairs and events. Follow us on Instagram for more event information: @ecclescareers.
Your premier Eccles Experience. Business Career Services (BCS) offers comprehensive career coaching and resources to students at the David Eccles School of Business. Paired with a dedicated corporate outreach team, BCS also allows students to gain real-world experience through job and internship opportunities with top employers. For more information, visit Eccles.link/BCS.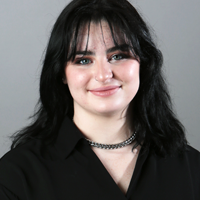 About the Author
Molly Gallagher is an undergraduate accounting student with a minor in English. She aims to graduate in 2024 and work in the real estate and entertainment industries.