The David Eccles School of Business Hall of Fame recognizes individuals who have so distinguished themselves in their careers that their achievements are models for present and future students and are leaders in their communities. We are honored to induct this individual to our Hall of Fame and award four people that are making an impact in the fields of entrepreneurship, service to the David Eccles School of Business, and a rising star in their industry.
Hall of Fame Inductee: Senator Jake Garn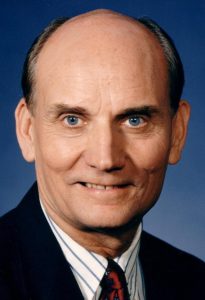 Senator Jake Garn, a respected authority on banking and finance who became the first sitting member of the United States Congress to fly in space, is the 2018 David Eccles School of Business Hall of Fame Inductee.
Senator Garn, a native of Richfield, Utah, earned a bachelor's degree in business and finance from the David Eccles School of Business in 1955. A former insurance executive, he served honorably in the United States Navy and Utah Air National Guard as a pilot. He retired as a Colonel in April 1979, and was promoted to Brigadier General after his space shuttle mission.
Prior to his election to the Senate, Garn served on the Salt Lake City commission from 1968 to 1972 and was elected as Salt Lake City Mayor in 1971, entering office in 1972. His policies helped to build Salt Lake City's reputation as one of the nation's great urban centers. His legacy as mayor includes urban renewal initiatives, Main Street beautification efforts, expansion of runways at Salt Lake International Airport.
The Garn Institute of Finance at the David Eccles School of Business honors Senator Garn for his contributions to the banking and finance industry and provides support to faculty in the Department of Finance.
Read more about him here.
Alumni Service Award: Jill Briggs, Tax Director, PwC
Jill Briggs, an alumna whose determined spirit and commitment to giving back makes her an outstanding role model for our students, is the recipient of the 2018 Alumni Service Award.
Jill received an Honors Bachelor's degree in Accounting from the University of Utah in 1995 and subsequently received a Master of Accounting with an emphasis in taxation in 1996.  While at the U, she was an officer of Beta Alpha Psi and was named the Outstanding Graduate in Accounting. She began her career with Coopers & Lybrand, which eventually merged with Price Waterhouse to become PwC, where she serves as Tax Director at the Salt Lake City office of the Big 4 international public accounting firm.
Jill's resilience was put to the test in August 2008, when she was notified of a grapefruit-sized tumor in her brain. Three years later, the tumor returned, forcing Briggs to undergo another surgery, which left her with partial paralysis of the left side of her body. Intensive physical therapy fueled by Briggs' unrelenting optimism and help from her godmother, Stevie Nicks, and friend, musician Chris Isaak, helped her eventually regain muscle control. She went on to complete her first sprint triathlon in 2012, after which she received the "Woman of Steel" award.
Read more about her here.
Rising Star Award: Josh Eckman, CEO, Carterra
Josh Eckman, whose groundbreaking work in drug discovery made him one of the first breakout talents of the Lassonde Entrepreuneur Institute, is the recipient of the 2018 Rising Star Award.
Josh Eckman is the CEO of Carterra, a company that develops and sells research instruments for the pharmaceutical and life science markets.  Carterra, formerly known as Wasatch Microfluidics, is a spin-out from the University of Utah that was founded in 2005 by Josh, Jim Smith and Bruce Gale.  Carterra's rapid screening platforms enable months of work to be completed in days, helping scientists develop better drugs for a host of diseases.
Carterra's current focus is on the burgeoning field of biotherapeutic drug development, which affects more than 350 million patients worldwide.  By improving the early stages of biotherapeutic drug discovery, Carterra hopes to enable more life-saving cancer, diabetes, and autoimmune drugs to be developed, and the cost of those drugs to be dramatically lowered.
After winning the Utah Entrepreneur Challenge business plan competition in 2005, Josh and his co-founders licensed from the University of Utah the technologies they had developed in Bruce's labs in the Mechanical Engineering Department.  The company was able to prototype their core technologies through funding from the State of Utah Governor's Office of Economic Development, the National Science Foundation, and the National Institutes of Health.  Carterra has grown through a partnership with Pfizer; funding from leading angel consortia and Telegraph Hill Partners, a San Francisco-based venture capital firm; and by developing innovative biosensor instruments and software that are in use by prominent biotech, pharmaceutical, academic and government researchers.
Read more about him here.
Distinguished Entrepreneur Award: Reese Howell, CEO, Celtic Bank
Linda Howell, CMO, Celtic Bank
Reese and Linda Howell, who have grown Utah-based Celtic Bank into one of the nation's largest small business lenders, are the recipients of the 2018 Distinguished Entrepreneur Award.
Reese and Linda's entrepreneurial drive dates to 1993, when Reese started Salt Lake Mortgage Corporation, one of Utah's most successful mortgage banking institutions. Linda joined the team as Underwriting Manager, then Sales Manager, and the company continued to grow, merging in 1997 with Chicago-based Celtic Investment, a publicly traded NASDAQ company, which would later become Celtic Bank's parent company.  Reese and Linda married in 1999.
Reese identified the unique aspects of Utah's Industrial Loan Companies (ILCs) and applied for a charter in 2000. In 2001, the charter was granted and Salt Lake Mortgage's operations were consolidated with Celtic Bank. Celtic Investment was successfully taken private in 2001 with the Howells as the company's largest shareholders.
In the early 2000's, Celtic Bank looked for growth in the areas of construction, real estate and small business lending.  Their assets exceeded $100 million for the first time in 2007, just before the recession.  Looking for alternative opportunities for growth, they began hiring top lending officers on a national basis from banks that were getting out of small business lending.  These initiatives along with strategic asset acquisitions during the financial crisis allowed Celtic Bank to triple in size between 2008 and 2011.
Their strategy also paid off when in 2010, Celtic was recognized as a Top 10 SBA lender nationally for the first time.  In addition to SBA lending, they are now active in many types of real estate, equipment, and energy finance. In 2012 Celtic began forming strategic partnerships with leading financial technology companies, and now enjoy strong relationships with many of the nation's leading fintech companies including Square, Kabbage, and OnDeck.  In conjunction with their partners, Celtic Bank will originate over $3.5 billion in loans in 2018 to hundreds of thousands of consumers and small businesses. Celtic Bank now has assets exceeding $750 million, $135 million in equity, and $1.5 billion under management.  They were named the sixth largest SBA lender in the nation, helping to create and support a generation of entrepreneurs like them.
Read more about them here.