Black Lives Matter in Business was part of Eccles Inclusion Week. This annual event celebrates our diverse community and aims to strengthen the inclusive culture at the David Eccles School of Business. 
Inclusion Week 2021 brought the David Eccles School of Business the pleasure of hosting a panel of prominent Black community leaders to discuss the implications of Black Lives Matter in business. The facilitator, James Jackson III, has served in many capacities throughout his career in finance. He is the founder of the Utah Black Chamber and has worked hard since 2009 to build this cohort of Black-owned businesses. He was joined by Karen Rodriguez, founder and CEO of Code in Color and Diversity and Inclusion Head for Purple Innovations; Mikell Brown, mortgage broker and board member of the Utah Black Chamber; and Marion Lindsay, education and technology specialist for TechTrep. Each member represented a different industry, which was interesting as the problems unique to each industry were brought to light.
The panel went through a series of questions with the first simply discussing some of the difficulties for people of color in the world of business. The consensus was that access to resources was the number one impediment to economic and business growth for these communities.
Rodriguez works heavily with the tech industry in trying to increase the outreach of tech companies in underrepresented communities. Brown, with his background in real estate, talked about the difficulties of overcoming racist practices such as redlining. Redlining not only hurt Black Americans at the time of its practice, but it continues to hurt Black Americans because of the impediment to wealth-building that it presented. Lindsay, who works in education, was adamant that the solution to the disparities in outcomes for Blacks and whites resides in access to educational resources.
The most important phase of this discussion centered on what we all can do to improve outcomes across the board. These three individuals have worked their whole lives to generate awareness of the problems and disparities we see in the business world today. However, recognizing the problem is not enough, we ought to be looking for solutions as well.
Outreach and access are the answers.
Each member talked about the importance of bringing Black Americans into discussions so that their perspectives can be heard and administered. Companies need to expand their hiring efforts to actively recruit members of underrepresented communities as these communities are rarely exposed to the opportunities made readily available to other communities. A simple way of doing this would be to ensure that the job requirements for the application are not so limiting that they exclude entire populations of people. A complaint that Jackson has heard from companies is that they receive no applicants from underrepresented communities. When Jackson investigated some of their application procedures, he often found that criteria for application were responsible for weeding out anyone that would have applied from an underrepresented community.
Other things like educating ourselves as to the history of Blacks in America or disseminating information with regards to career opportunities will aid the quest to make sure that the American Dream is made available to all. By increasing access to educational resources and opportunities across industries, the barriers to success can be broken down for underrepresented communities in business. The American Dream is the idea that our destiny lies in our own hands. The issues brought to light by this panel show that there are significant impediments for groups trying to build their own destinies. Our efforts to level the playing field will give increased strength and validity to the promise of the American Dream for all people.
Your premier Eccles Experience. Business Career Services (BCS) offers comprehensive career coaching and resources to students at the David Eccles School of Business. Paired with a dedicated corporate outreach team, BCS also allows students to gain real-world experience through job and internship opportunities with top employers. For more information, visit Eccles.link/BCS.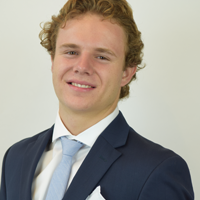 About the Author
Nathanael Hooper is a sophomore studying business management and a pre-med candidate. He works as a Business Career Ambassador and as a research assistant for an orthopedics lab. His interests include anything that can be done outdoors (climbing, skiing, camping, etc.), music, and developing close relationships with friends and family. Nate aspires to go to medical school and become a pediatrician.