Editor's Note: The David Eccles School of Business is celebrating Black History Month by sharing the successes of Black business leaders who have made big impacts in the business world.
Mahisha Dellinger grew up in a public housing project in Sacramento, California, with her single mother. It was there she witnessed how a community and its closeness can really impact a child's upbringing. After earning a degree in Marketing and Business Administration, Dellinger went to work as a Marketing Manager at the Intel Corporation. Here, she found and developed her passion for creating effective and eco-conscious products for naturally curly hair after being frustrated with the lack of quality products for her hair type.
With this in mind, she launched CURLS Beauty Brands in 2002. With its entry into the mass retail market, Dellinger made it possible for customers to access the natural CURLS products everywhere. Outside of running CURLS, Dellinger continues to dedicate her time to helping fellow women of color succeed within the business world.
Dellinger also currently has a show running on the Oprah Winfrey Network, has written a book about her road to success: "Against All Odds: From the Projects to the Penthouse," and hosts business coaching conferences entitled "Black Girls Making Millions."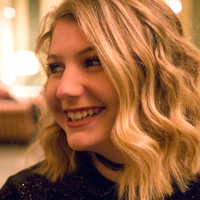 Anna Terry is a Marketing and Information Systems student at the David Eccles School of Business. She currently serves as an intern for the Marketing + Communications team.