It's the start of a new year and with that comes plenty of resolutions. If you're looking for something to add to your 2022 list that is attainable and extremely helpful, meet with a Career Coach right here at the Eccles School.
It's easy to schedule an appointment, and it's included as part of your premier Eccles Experience! Career Coaches are here for you throughout your educational career, from exploring your strengths, learning about possible careers, finding internships and jobs, negotiating a salary, and more! Not sure where to start or what questions to ask? Don't panic. We've got five topics to discuss with your Career Coach.
1) Career Exploration
Your Career Coach can help you explore your interests and strengths through tools such as CliftonStrengths and O*NET Interest Profiler and point you to online and campus resources. They are knowledgeable in the majors and minors the Eccles School offers and can help you discover the best fit for your career path.
2) Resume Feedback
Career Coaches can review and offer advice on content and formatting, plus suggest internships and jobs that might be a good fit.
3) Networking
Learn about how to put yourself out there, find mentors, and get connected with people in a specific field or industry. Your Career Coach can help!
4) Hands-on Experience
Ask how to get involved with something relating to your interests or passions. In addition to internships and job opportunities, your Career Coach can connect you with student clubs, scholar programs, and student leadership opportunities. This is a great way to explore different fields.
5) Post-Graduate Degrees
If you are interested in furthering your education beyond a bachelor's degree and would like some insight, a Career Coach can point you toward graduate programs, additional certifications, and more.
Your premier Eccles Experience. Business Career Services (BCS) offers comprehensive career coaching and resources to students at the David Eccles School of Business. Paired with a dedicated corporate outreach team, BCS also allows students to gain real-world experience through job and internship opportunities with top employers. For more information, visit Eccles.link/BCS.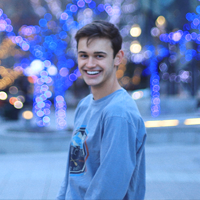 Kade Schweitzer is a Pre-Business student at the David Eccles School of Business. He currently serves as an intern for the Marketing + Communications team.