Looking to diversify your flavor palate? Here are five places for summer eats to try in Salt Lake City.
1) Pretty Bird
If you like chicken, you're in for a treat. Pretty Bird, located in Salt Lake City just southeast of the Eccles Theatre, is what I like to call a gourmet Chick-fil-A. Topped with pickles, slaw, and their own Prettybird Sauce, their "Fried Chicken Sando" sandwich is a must-try.
2) Spitz
Looking for some Mediterranean food? Spitz is your place. Located on 35 Broadway in Downtown SLC, Spitz is home to a plethora of delicious Mediterranean options, along with six vegan dishes! Not to mention, they have amazing sweet potato waffle fries.
3) Red Iguana
Out of the many Mexican food places in Salt Lake City, Red Iguana easily tops the list. With over four stars and thousands of reviews, Red Iguana is a popular spot and worth the wait. They specialize in mole (pronounced moh-lay), a sauce made from dried and fresh chiles, nuts, spices, herbs, fruits, and vegetables and perfect for getting a taste of authentic Mexican food.
4) Chedda Burger
When it comes to burgers, there are always plenty of options, however, Chedda Burger is by far one of the best in Salt Lake City. Located on Foothill Drive, they offer plenty of toppings along with creative burgers and delicious sides like the chedda tots and fried brussel sprouts.
5) The Pie Pizzeria
Have I saved the best for last? If you're a pizza lover, then yes. The Pie, located below the University Pharmacy just west of campus, serves the greatest pizza around. With plenty of pizza, pasta, and salad options, they offer vegan and gluten-free choices as well so everyone can enjoy. To top it all off, this location offers 10% off any purchase with a UCard and the discount even applies to deliveries!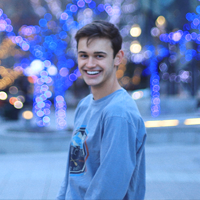 Kade Schweitzer is a Pre-Business student at the David Eccles School of Business. He currently serves as an intern for the Marketing + Communications team.