Zoom has been extremely useful in connecting us in work meetings and lectures; however, it can also help us connect with the people we miss the most! Instead of going on your third neighborhood walk of the day, check out some of these ideas for your next Zoom hangout!
Jeopardy. Jeopardylabs allow its fans to play their signature game all across the world! With one friend as the Game Master, they can decide the topics to play to create the game. When in the Zoom Call, all the Game Master has to do is share their screen and play as usual! 
Murder Mystery. #ZoomJam allows people to submit the games they have created, especially for Zoom. One of the most popular on the website is Murder Mystery, which closely follows the premise of the game Mafia. This game requires a bit more knowledge on Zoom, as it involves breakout rooms and private messages. Check out the full detailed instructions here. 
Karaoke. While a song may be the easiest to sing, it can also be the funniest! When it's your turn, all you need to do is select one of the thousands of Karaoke tracks on YouTube, grab your makeshift mic (hairbrushes usually do the trick), and sing your heart out!
Just Dance. Just Dance is available on both your laptop and your phone. With your phone acting as your controller, you can play over Zoom as you compete against each other in the game's party rooms. They have a huge range of music from Disney favorites to pop hits from years ago!
Netflix Party. Netflix Party is a Google Chrome extension that, when installed, allows you and your friends to watch Netflix together. The extension does offer a chat function; however, you also can go onto a Zoom call to see everyone's reactions! Now if only your friends could actually agree on a movie…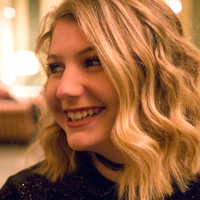 Anna Terry is a Marketing and Information Systems student at the David Eccles School of Business. She currently serves as an intern for the Marketing + Communications team.