Off The Rack focuses on creating a place and platform for creative student entrepreneurs, like founder Susma Gurung. The goal is to "provide young entrepreneurs an opportunity to gain exposure for their sustainable business or startup," says Gurung. Set up in a flea market format and located on the University of Utah campus, Off the Rack started with seven vendors in February of 2022 and has grown to more than 35.
Gurung's background in fashion and thrifting inspired her to major in marketing and minor in environmental studies. As an Opportunity Scholar, she has had the opportunity to connect with many like-minded entrepreneurs and promote her many ventures in business and fashion. In addition, she has had access to resources and a network of students who are happy and willing to support Off The Rack.
Gurung will graduate this Fall, start an internship at Startupbootcamp to learn more about marketing and entrepreneurship, and begin the Eccles Master of Business Creation degree in Fall 2023. She aims to scale Off The Rack across 20 university campuses nationally in the next three to five years.
The next Off the Rack event in on Nov. 10, 10 a.m. – 4 p.m. on the Marriott Library Plaza.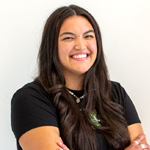 Haylie Heale is a senior studying Marketing and Information Systems at the David Eccles School of Business. She is currently an intern for the Marketing and Communications department and a Diversity Ambassador for the Office for Student Inclusion.