If you're new to Salt Lake City or just want to try something new, I am here to help. The University of Utah's host city offers an extremely wide (and delicious) variety of cuisines, so sometimes it can be hard to make a decision. If you've had a long week and want to go grab a late-night bite with friends, here are a few suggestions to help you decide.
1) The Pie Pizzeria
If you're a pizza lover, this is arguably the best pizza in Utah. Located below the University Pharmacy just west of campus, The Pie Pizzeria serves pizza, pasta, and salad, and offers vegan and gluten-free choices so everyone can enjoy. To top it all off, this location offers 10% off any purchase with a UCard and the discount applies to deliveries! This is one of the best places to grab a late bite. They are open until 11 p.m. every day of the week (even on Sunday!) Check them out here.
2) Spitz
Looking to mix it up? Mediterranean is the food and Spitz is the place. Located on 35 Broadway in Downtown SLC, Spitz is home to a plethora of delicious and high-quality Mediterranean-inspired dishes, along with six vegan dishes! Not to mention, they have the most amazing sweet potato waffle fries. If you haven't tried Mediterranean food, this is the place to start. They are open until 10 p.m. on Fridays and Saturdays. Check them out here.
3) The Dodo Restaurant
The Dodo Restaurant is known for its delicious American cuisine, from salads and sandwiches to amazing pasta, steak, and fish. When talking about The Dodo, you can never forget their extremely popular desserts, which are made fresh daily in their bakery. This is the place to go to if you also want to enjoy a mouthwatering pie or cake following an amazing dinner. The Dodo is open until 11 p.m. every day except Sunday, when it closes at 10 p.m. Check them out here.
4) Blue Iguana
Out of the many Mexican food places to try, Blue Iguana easily tops the list. With 4.3 stars and almost 2,000 Google reviews, Blue Iguana is popular and delicious. It is the perfect place for a taste of authentic Mexican food. Open until 10 p.m. on Fridays and Saturdays. Check them out here.
5) Garage on Beck
And let's not forget American comfort food! If you have been searching for some of the best, today is your lucky day. Garage on Beck is a former auto shop turned into an amazing Salt Lake City eatery. From burgers to Utah's famous funeral potatoes, they have it all. They offer many vegan options as well. They are open until 10 p.m. on Fridays and Saturdays. Check them out here.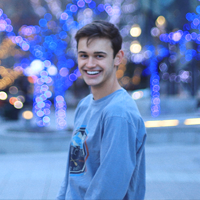 Kade Schweitzer is a Pre-Business student at the David Eccles School of Business. He currently serves as an intern for the Marketing + Communications team.